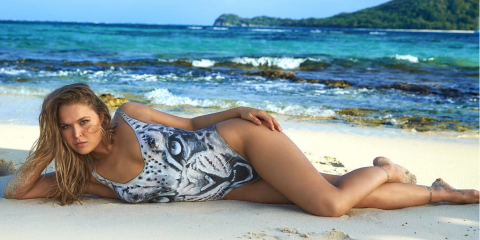 Weekend ini, petarung UFC yang paling dikenal, Ronda Rousey, berpose telanjang untuk cover majalah Sport Illustrated. Well, ga harafiah telanjang, karena tubuhnya ditutupi oleh form of art yang dikenal sebagai body painting. Selain dirinya, Ashley Graham dan Hailey Caulson juga tampi dalam cover majalah ini.
Berikut interview kami dengan Rousey yang menceritakan pengalamannya.
Apa yang ada di pikiranmu ketika melihat covernya untuk pertama kali?
Aku terkesima dengan hasilnya, karena kau merasa tidak cocok jika disandingkan dengan gadis – gadis lain yang pernah menjadi cover majalah tersebut. Dan ternyata hasilnya sangat bagus!
Bagaimana kesempatan ini datang untuk kamu? Dan apa yang membuat kamu ingin melakukannya?
Well, setelah tahun sebelumnya aku mengisi untuk edisi swimsuit, aku merasa aku ingin melakukannya lagi. Dan ketika mereka menawarkan kesempatan ini, aku langsung bahagia dan penasaran akan terlihat seperti apa konsepnya (body painting).
Berapa lama proses body paintingnya?
14 jam, dan aku akan langsung di cat begitu aku mendarat. Dan aku harus melakukannya dua kali.
So what was it like getting body painted? Did it tickle? I can't even imagine what that was like.
Well there was a two- or three-hour window where I got to lay down and try to sleep. I kept feeling like flies were landing on me. That's what it felt like: I kept, like, twitching because it felt like little things landing on me because of the paintbrushes. But there were three people working on me at one time. There was Joann and her whole team. I think when I was most nervous was when they had to color in, you know, the delicate areas. I've never had anything cold and wet touching my butthole before. That was quite the experience! We all got real, real friendly by the end of that 14 hours.
Bagaimana rasanya berpose telanjang? Karena hal tersebut pastinya bersifat intim.
Aku sebelumnya pernah jadi model untuk ESPN, tetapi ini benar – benar pengalaman yang berbeda karena ketika berpose telanjang kamu akan berusaha agar tubuhmu tidak terllau terlihat. Dan aku sadar bahwa aku aman – aman saja, tetapi mungkin karena kebiasaan atau reflex, aku akan berusaha untuk menutupi diriku sendiri, padahal aku seharusnya lebih terbuka.
Pertanyaan terakhir: apakah kamu akan melakukannya lagi? Body painting?
Astaga, aku harus melakukannya dua kali sebelumnya dan body painting membutuhkan waktu untuk dibuat. Aku tertarik untuk melakukannya lagi tapi aku rasa aku butuh istirahat sebelum kembali mencobanya lagi.
Berapa lama catnya menghilang?
Untuk pakaian yang pertama, cukup 20 menit, tetapi yang kedua, astaga itu terasa seperti gak akan pernah pudar.