Hallo semuanya, di tulisan kali ini aku akan membahas mengenai sebuah produ skin care dari salah satu brand yang terkenal dengan ramah lingkungannya, yaitu The Body Shop. Bagi kalian yang sedang mencari produk untuk mencuci muka atau facial wash, mungkin tulisan aku kali ini dapat memberikan kaliah informasi baru. Langsung saja ke review nya yaa.
Produk dari brand The Body Shop yang akan aku bahas kali ini adalah yang bernama The Body Shop Vitamin C Daily Glow Cleansing Polish. Jadi, produk ini adalah facial wash yng merupakan rangkain vitamin c dari The Body Shop. Berdasarkan kemasannya, sabun muka ini memiliki tempat berwarna orange yang merupakan ciri khas dari rangkaian vitamin C ini. Dilihat dari tampilan depan kita dapat melihat jelas nama produk ini dan kegunaannya. Tertera bahwa sabun cuci muka ini cocok untuk kulit yang kusam, lelah, dan tidak sehat. Tertulis juga bahwa produk ini mengandung dan diperkaya oleh vitamin c camu camu yang berasal dari hutan hujan amazon di Peru. Pada bagian belakang botol produk ini mengklaim bahwa merupakan pembersih wajah yang membantu membersihkan kotoran dan sel kulit mati pada wajah serta membuatnya terasa segar, halus, dan tampak cerah.
Cara Pemakaian : Aplikasikan pada kulit wajah dan leher yang basah dengan ujung jari, kemudian pijat secara perlaha dan bilas dengan air hingga bersih.
Peringatan : Hindari penggunaan di area mata. Jika terkena mata, bilas dengan air dan hentikan penggunaan apabila terjadi iritasi.
First impression aku dengan produk ini adalah wanginya yang seperti jeruk. Sangat menyegarkan di muka. Teksturnya berupa gel yang di dalamnya terdapat partiker-partiker scrub kecil. Walaupun produk ini mengandung scrub tetapi tidak memebua kulit menjadi perih, dengan kata lain produk ini halus dan tetap nyaman untuk digunakan setiap hari. Begitu di bilas, aku juga merasa kalau produk ini mengangkat kekusaman pada wajahku. Karena, begitu membilas muka setelah dicuci, aku merasa wajahku sudah tidak kusam lagi dan terasa lebih cerah. Sehingga menurut aku klaim dari produk ini sesuai. Produk ini juga memiliki busa yang tidak terlalu banyak, sehingga dapat dipastikan bahwa detergen yang terkandung di produk ini sedikit. Begitu di bilas pun kulit terasa kenyal tidak kering seperti di tarik. Aku suka dengan produk ini, bisa kalian lihat dari foto ini, sudah hamir habis.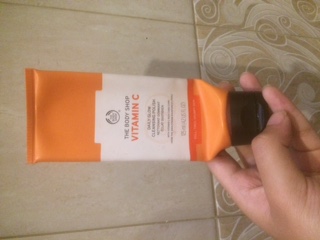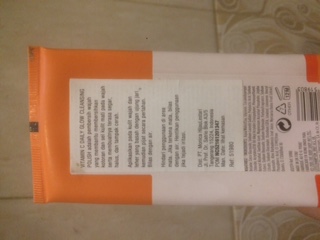 Hal yang aku suka dari produk ini adalah, dia tidak membuat kulit ku terasa tipis atau perih walaupun mengandung scrub dan aku gunakan setiap hari. Ketika aku sedang ada jerawat pun tidak terasa perih atau memperparah kondisi jerawatku. Selain itu wanginya yang sangat menyegarkan. Aku berniat untuk membeli produk lain dari rangkaian vitamin c ini. Produk ini recommended untuk kalian yang sedang mencari produk pencuci wajah, terutama yang memiliki kulit cepat kusam.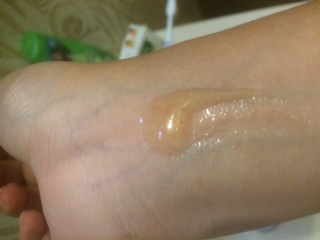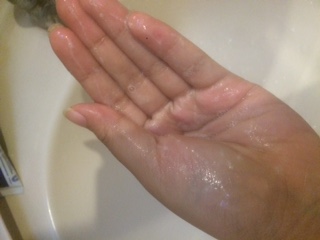 Sekian review dari aku, semoga membantu. Thank you!
Product price: IDR 249.000
Tampil Cantik
Average rating:
0 reviews
Packaging rating

Product rating

Price rating