Haloooo beauties !
Siapa yang suka pake Mask Sheet ? aku bawa masker dari korea Liar Beautiful Girl Pore Solution Super Elastic Mask Pack. Ada yang pernah denger ? Aku dapet ini dari salah satu giveaway beauty blogger waktu bulan September kalo engga salah.
Masker ini praktis banget dan 3 step yaitu terdiri dari facial foam – moisture essence – maskernya. Bakalan aku bahas satu persatu ya jadi tetep dibaca terus sampe akhir okeyy
Masker ini tulisannya korea semua dan aku gak mudeng. Cuma bias baca gatau artinya. Dibawah ini ada penampakan maskernya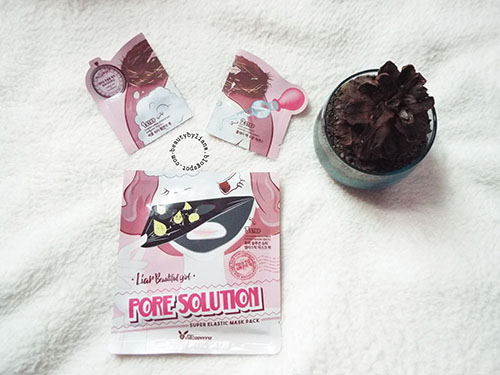 About  :
The pore solution super elastic mask sheet is for clearing up the face. It contains nutritions essence and bird's nest extracts are pore care and elasticity.
Aku dapet itu dari salah satu web luar negeri. Aku lupa webnya hehe. Untuk ingredients aku kurang tau karna ya kalian liat sendiri tulisannya korea semua, mungkin kalo English aku masih bisa ngerti ya
Step 1 ( Bubble Cleansing Foam)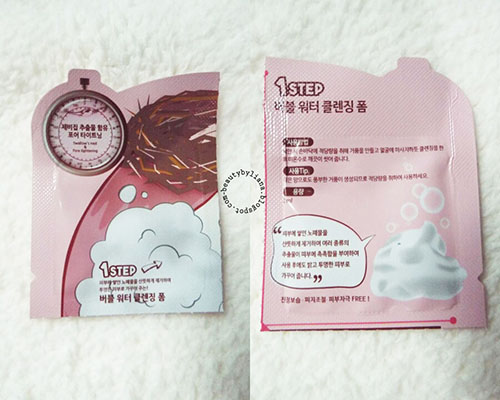 Teksturnya menurutku kayak sabun cair bio*e wkwk. Cara pakainya seperti pakai facial foam biasanya dan aku kira ini tuh bakalan wangi yang nyengat ternyata lembut dan hamper engga ada wanginya malah, setelah dipakai muka aku tuh yang lembut banget gitu alus. Aku suka! Tapi harusnya aku buat 2 kali pakai soalnya kebanyakan kalo sekali pakai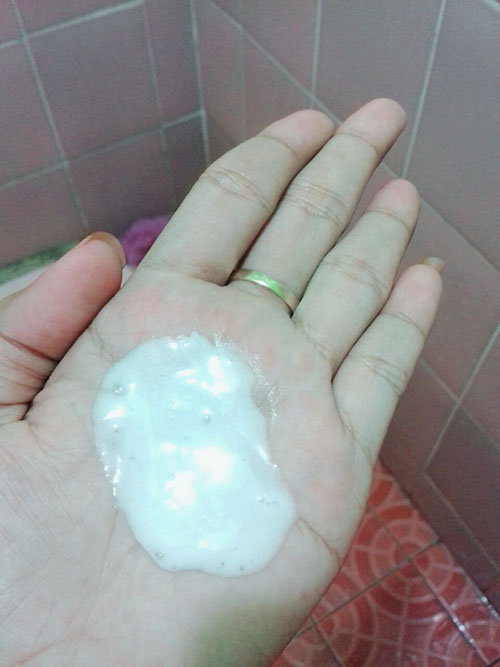 Step 2 (Moisture essence)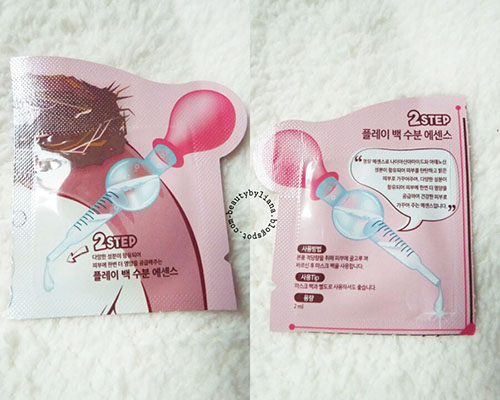 Tekstur dari essence ini aku kira bakalan kayak toner ternyata oh ternyataa dia berbentuk gel gitu kayak aloe vera yang terkenal ituhh, aku pake ini setelah muka aku kering kemudian aku pakein ini aku pake semuanya ternyata kebanyakan. Ahsudahlah~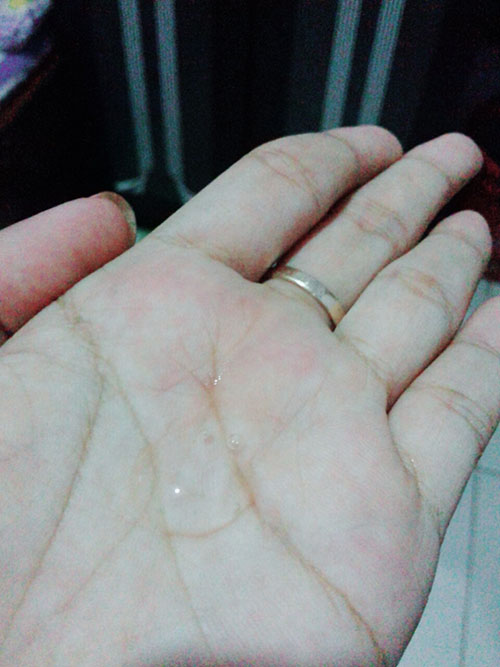 Setelah pake ini itu muka kayak lengket-lengket gitu gak sukak 🙁
Step 3 ( Mask pack)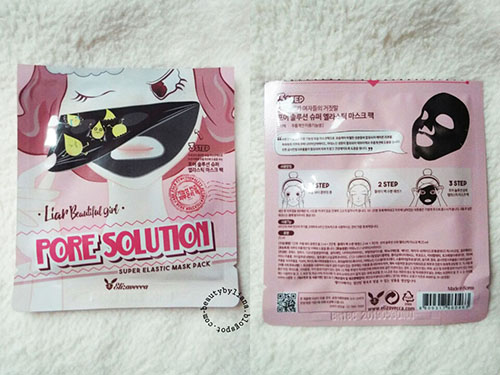 Ini maskernya lucuuuuuuu banget warnanya item elastis gimana gitu pas dipake wkwk. Jadi aku pake ini sekitar 20-30 menit dan itu maskernya kalo kering kayak kenceng gitu tapi gak kenceng banget.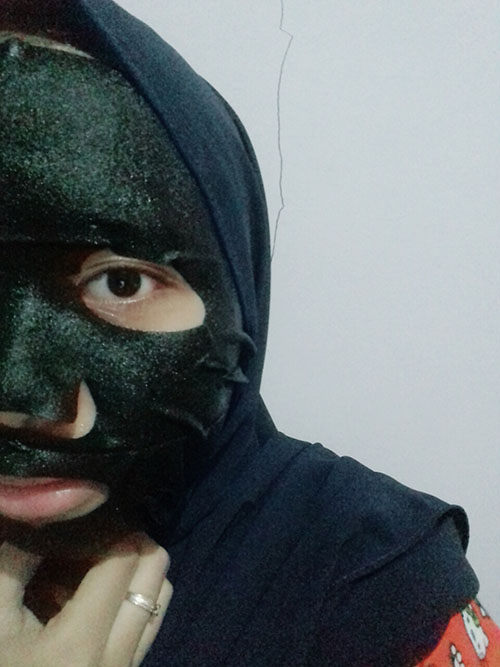 Setelah aku lepas maskernya muka aku tuh yang kayak lembab kebangetan malah keliatan berminyak padahal itu efek dari maskernya. Tapi karna engga betah akhirnya aku cuci muka deh dan alhasil pas di cuci muka licin banget mungkin semut disitu juga kepleset Lol
Result :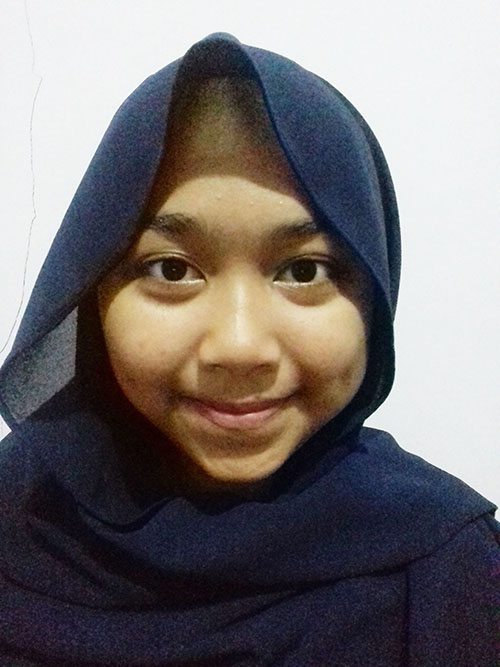 Enak banget sih menurutku untuk first impression, untuk efek si aku belum nemuin di wajah aku karena baru satu kali pakai.
Product price: IDR 31.000
Elizavecca Liar Beautiful Girl Sheet Mask
Average rating:
3 reviews
Aug 16, 2017
Hai aku juga pernah menggunakan masker ini. wah salah satu black mask favorit. aku suka karena dia punya packaging yang lucu dan 3 step. pas banget dibawa kalau lagi bepergian karena face wash dan serum nya bisa dipakai 2 kali 🙂 setelah menggunakan masker ini, kulit ku terasa lembab banget, kebetulan jenis kulitku kombinasi dry and oily. tapi dia tidak membuat bagian oily skin ku terlihat lebih oily. Aku juga suka bahwa kelembaban dia itu bertahan sampai keesokan harinya. Juga aku merasa kulitku terlihat lebih cerah setelah pakai masker ini. Harganya juga lumayan nggak begitu mahal kalau beli di ALthea, apalagi kalau Buy 5 get free 1.
Aug 3, 2017
Pertama kali liat ini aku kira peel off, terus akhirnya beli. Dan ternyata denggg ini mask sheet lol XD  Kemasan ini 3 in 1, ada sabun, essence dan mask sheet. Untuk sabunnya menurut aku lumayan banyak, jadi pas aku pake sebenernya masih ada sisanya gitu, cuma daripada sayang ga dipake, jadi aku abisin langsung. Hasilnya bkin kulit lembut bgt. Untuk essencenya, wangi bangett ! I love it. Terus mask sheetnya jg lumayan elastis, beda sama mask sheet yang aku pake biasa. Hasilnya sih bikin kulit lebih cerah dan lembab (yaa walau cerahnya ga tahan lama) hehe
Apr 15, 2017
Masker ini bagus banget, terdapat cleansing foam, essence, dan sheet mask dalam satu kemasan. Harganya 17.000 aku beli di ALTHEA, masker ini juga bikin kulit aku lembut, kenyal dan glowing
Packaging rating

Product rating

Price rating