Siapa disini yang noton youtubenya Pony dari jaman Pony masih kerjasama Innisfree?? Nah kalau kalian yang tau dan nonton Pony pasti kalian tau, the one and only sponge yang dia pake adalah Wedge Puff dari Skinfood yang bentuknya unik banget. Dan bukan Pony aja yang pake sponge ini, tapi Joan Kim, Sunnydahye, Eddie dan bunch of Korean beauty blogger use this sponge. And the most important thing, they swear by it.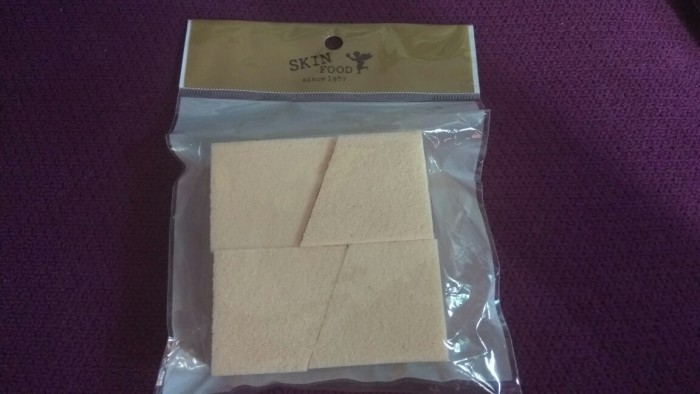 Aku sendiri gak terlalu sering menggunakan tools sebenernya kalau lagi make up, kebanyakan Cuma ke tap-tap pakai jari aja, karena base make up yang setiap hari aku pake only consist of face blur from etude and two way cake from make over. Jadi ya ngerasanya sih gak butuh-butuh banget. Dan aku juga gak nge bake whatsoever, jadi gak perlu sponge untuk pemakaian bedak, cukup pakai powder brush aja dari real techniques.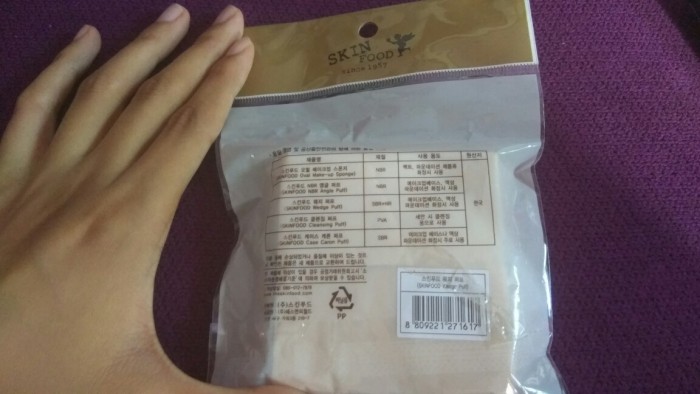 Kenapa aku memutuskan membeli ini karena emang aku udah ngincer lama banget dari tahun lalu malah..dan entah kenapa aku gak dapet-dapet, selalu lagi kosong stoknya, atau keuanganku lagi gak mendukung(walaupun iya ini murah banget, tapi namanya anak kos kan..mending budgetnya buat makan wkwk). Dan sepanjang waktu aku gak punya sponge ini aku udah pakai sponge real techniques yang hamper sama bagusnya dengan sponge ini dan sponge dari Armando caruso yang mirip-mirip bentuknya tapi performanya beda jauh.
Oya, wedge puff ini ada 2 jenis kemasan, yaitu yang jumbo dan small. Yang aku punya yang small berisi 4 sponge, yang pastinya akan kepakai lama banget. Kuku jariku jarang panjang juga, jadi sponge make up relative awet kalau aku yang pakai. Dan tipsnya juga saat mencuci jangan pernah dikucek keras, tapi cukup di tekan-tekan aja sampai bersih. Untuk harganya kurang lebih 20 ribuan, atau 30 ribuan tergantung dimana kamu belinya. Karena aku redeem ini, jadi aku gak tau harganya berapa persisnya.
BIasanya kan sponge bentuknya kotak atau lonjong gitu ya, tapi bentuk dari sponge ini sesuai namanya wedge. Dan sebelum dating aku pikir akan sekeecil sponge dari armoando, tapi ternyata lebih besar dan enak banget untuk dipegang, gak awkward sama sekali pegangannya. Untuk daya serap menurutku, ia menyerap lumayan banyak produk sih, karena pori-porinya lumayan besar, tapi enaknya, hasil akhirnya akan flawless dan somehow air brush looknya terlihat banget, jadi berasa pakai beauty blender deh hehe.
Dan harganya super cheap ya gais, aku rekomen ini banget untuk kalian terutama yang masih mau coba-coba sponge. Dan trust me when I say, enakan sponge ini dari pasa real techniques miracle complexion sponge. Karena ini gak perlu di buat basah hanya untuk dapetin hasil yang flawless, jadi lebih simple aja aku suka. Dan untuk harga 20ribuan kamu dapet 4 sponge? Gila gak sih worth it banget.
Product price: IDR 40.000
Tampil Cantik
Average rating:
0 reviews
Packaging rating

Product rating

Price rating