Hai guys, adakah diantara kalian yang sudah pernah mencoba CelebFace Sparkling Cleanser? Produk dari negeri ginseng ini sepertinya masih jarang beredar reviewnya di Indonesia karena yang menjual cleanser ini juga aku tahunya baru di hicharis.
CelebFace Sparkling Cleanser ini kemasannya bisa dibilang cukup bagus dan terlihat lux. Dilengkapi dengan kemasan box, tapi sayang infonya kebanyakan bertuliskan Korea. Ya jelas dong, kan produk Korea 😀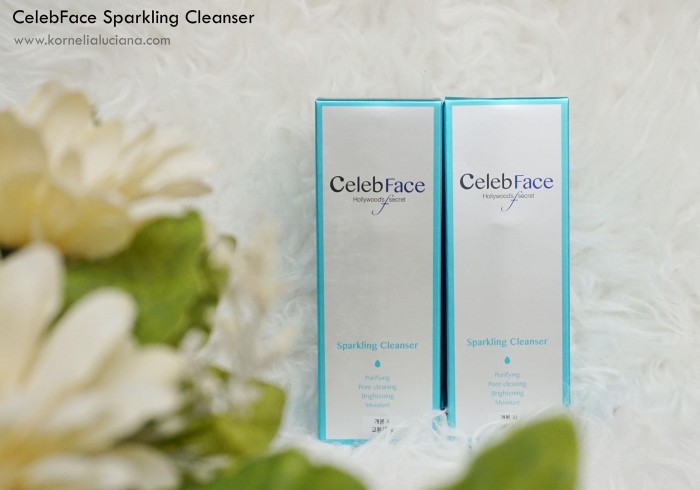 Untuk harganya, menurutku cleanser ini bisa dibilang cukup pricey ya 300an ribu. Tapi kalo dilihat dari fungsinya yang bisa digunakan untuk cleanser, pembersih makeup dan juga masker, jadinya terasa murah. Ya gak?
DESCRIPTION
It removes dead skin cells, sebum, whiteheads and blackheads deep inside your pores.That's why you can see your skin become brighter right after using this cleanser. It keeps your skin moist and smooth because it balances your skin pH.

INGREDIENTS
Water, Disiloxane, Lauryl Glucoside, Alcohol Denat., Methyl Perfluorobutyl Ether, Methyl Perfluoroisobutyl Ether, 1,2-Hexanediol, Carbomer, Decyl Glucoside, Chondrus Crispus Extract, Saccharum Officinarum (Sugarcane) Extract, Rosa Canina Fruit Oil, Yucca Filamentosa Extract, Sapindus Mukorossi Fruit Extract, Saponaria Officinalis Leaf Extract, Hydrolyzed Vegetable Protein, Codium Tomentosum Extract, Enteromorpha Compressa Extract, Gelidium Amansii Extract, Laminaria Japonica Extract, Macrocystis Pyrifera (Kelp) Extract, Salicornia Herbacea Extract, Spirulina Platensis Extract, Kjellmaniella Gyrata Extract, Glycerin, Cocamidopropyl Betaine, Caprylyl Glycol, Butylene Glycol, Ethylhexylglycerin, Dipropylene Glycol, Maltodextrin, Hydrogenated Lecithin, PEG-40 Hydrogenated Castor Oil, Hyaluronic Acid, Sodium Hyaluronate, Hydrolyzed Hyaluronic Acid, Disodium EDTA, Phenoxyethanol, Fragrance(Parfum).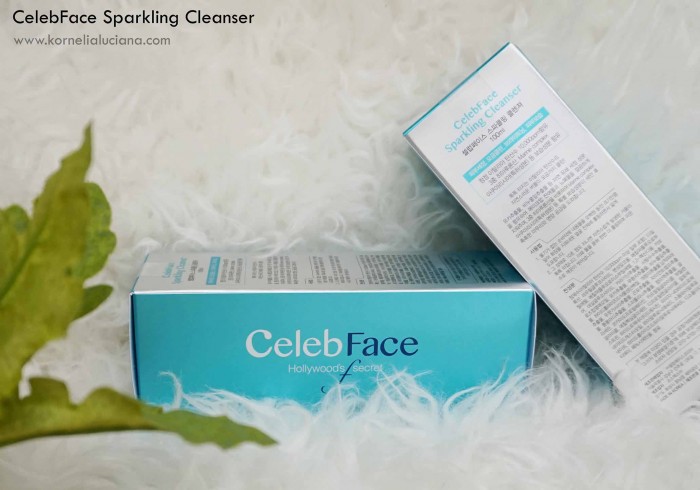 Aku suka dengan model kemasan produknya yang berbentuk pump karena jadi lebih higienis ketika menggunakan produknya dan aku suka kemasan yang pump itu salah satu alasannya supaya kutekku gak rusak kalo buka cleanser yang kemasannya flip top haha. Kalo pump kan tinggal pencet doing jadi gak akan merusak kutek 😀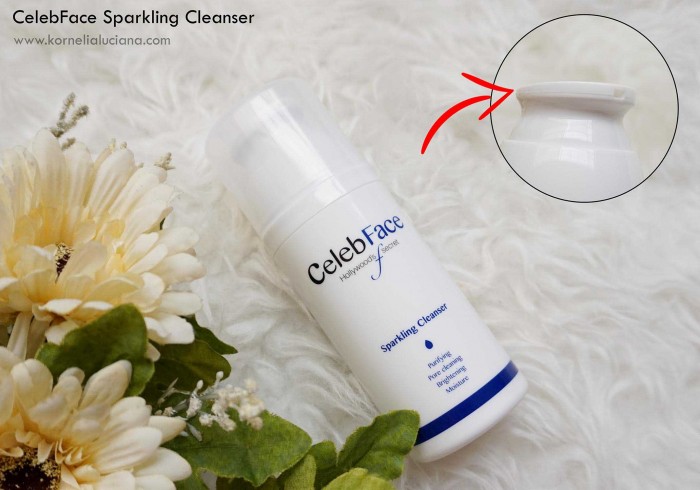 Tekstur cleanser ini seperti gel dengan warna bening, wanginya agak beda dengan wangi produk-produk Korea lainnya. Cleanser ini wanginya mirip wangi cream Vaseline yang dulu pernah aku pakai waktu sekolah 😀
CelebFace Sparkling Cleanser ini bisa digunakan dengan 3 cara :
Sebagai cleanser sehari-hari. Caranya tuang 1-2 ke telapak tangan lalu aplikasikan pada wajah yang bersih. Tunggu sampai bubble keluar, lalu tambahkan air trus pijat lembut. Setelah selesai, bilas dengan air hangat.
Sebagai Pembersih Makeup. Caranya tuang 5-6 pump ke telapak tangan lalu aplikasikan pada wajah yang kering. Setelah itu tunggu sampai bubble keluar, lalu tambahkan air sambil dipijat pelan. Selanjutnya tinggal dibilas dengan air hangat.
Sebagai Bubble Mask. Caranya tuang 5-6 ke wajah yang bersih dan kering lalu didiamkan sampai bubblenya keluar. Bisa ditinggal sambil mandi ataupun melakukan pekerjaan lainnya, setelah itu bisa langsung dibilas dengan air hangat.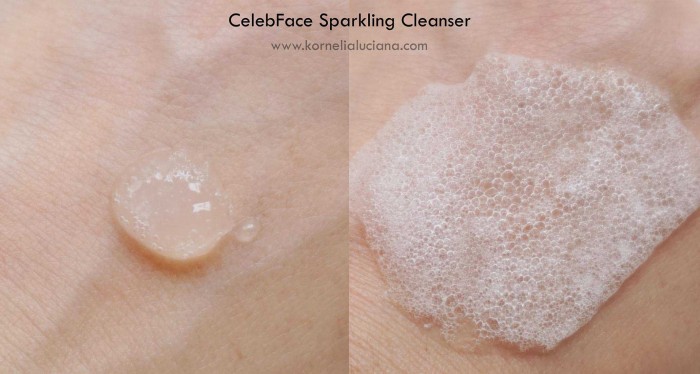 Aku suka banget dengan CelebFace Sparkling Cleanser ini karena mencuci wajah dan membersihkan wajah dari makeup jadi lebih mudah. Dan setelah mencuci wajah, kulitku jadi terasa bersih banget, segar dan enak banget dipegang. Recommended banget cleanser ini dan untuk kulitku yang sensitive juga gak bikin breakout ^_^
Product price: IDR 328.330
Tampil Cantik
Average rating:
0 reviews
Packaging rating

Product rating

Price rating