Kamu pasti udah pernah dengar LA Girl Beauty Brick Eyeshadow Collection in Nudes yang disebut-sebut sebagai dupenya Urban Decay Naked 3. LA Girl punya beberapa koleksi eyeshadow palette diantara lain LA Girl Beauty Brick Eyeshadow Collection, High Definition Color Palette, High Definiton Eyeshadow Trio dan Mega Pearl Eyeshadow. Nah LA Girl Beauty Brick Eyeshadow Collection ini ada 4 pilihan, Nudes, Smoky, Ultra sama Neons. Aku pilih yang Neon ini karena emang pengen nyobain yang warnanya beda.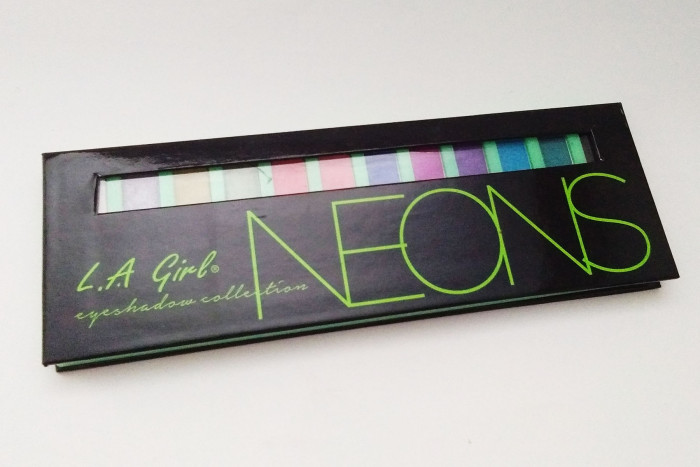 Description :
"Four gorgeous must-have eyeshadow palettes filled with a dozen majorly pigmented shades ranging from super wearable looks like Nudes to bolder looks like Neons. L.A. Girl's Beauty Brick Eyeshadow Collection gives you the best of all colors to allow you to create stunning looks! The variety of colors and textures in the Beauty Brick Eyeshadow Collection include shimmer and matte shades making these captivating palettes very versatile to go from an everyday look to a night out. Each unique look is featured in its own luxurious glossy book with a double-ended brush and mirror inside."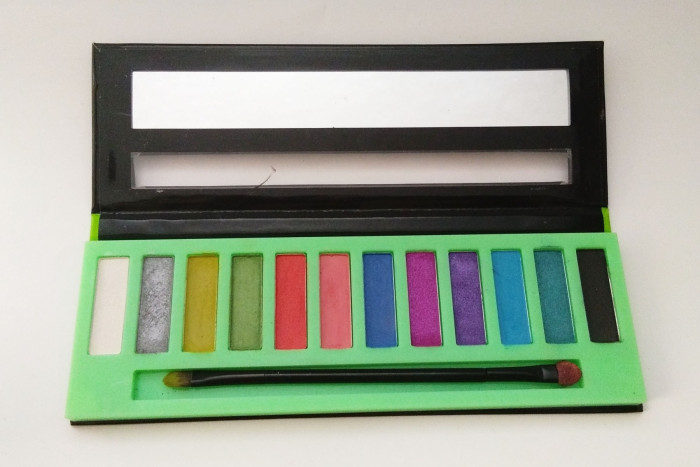 Palette ini terdiri dari 12 shade. Tujuh diantaranya adalah shimmer dan selebihnya warna matte. Masa pemakaiannya adalah 36M yang bisa dilihat dibelakang kemasan beserta komposisinya.
Kemasannya simple dan tutup dari eyeshadow palette ini tuh ada magnetnya tapi gak yang kuat. Packaging luar pas terima produk ini cuma dilapisi plastik dan di-isolasi biar gak kebuka. Ya maklum sih dengan harga yang murah banget kita nggak bisa berharap banyak dari kemasan. Harganya bisa bervariasi di toko-toko. Palette ini dilengkapi dengan double ended brush dan sudah ada kaca kecil di bagian atas yang lumayan ukurannya untuk liat aplikasi detail.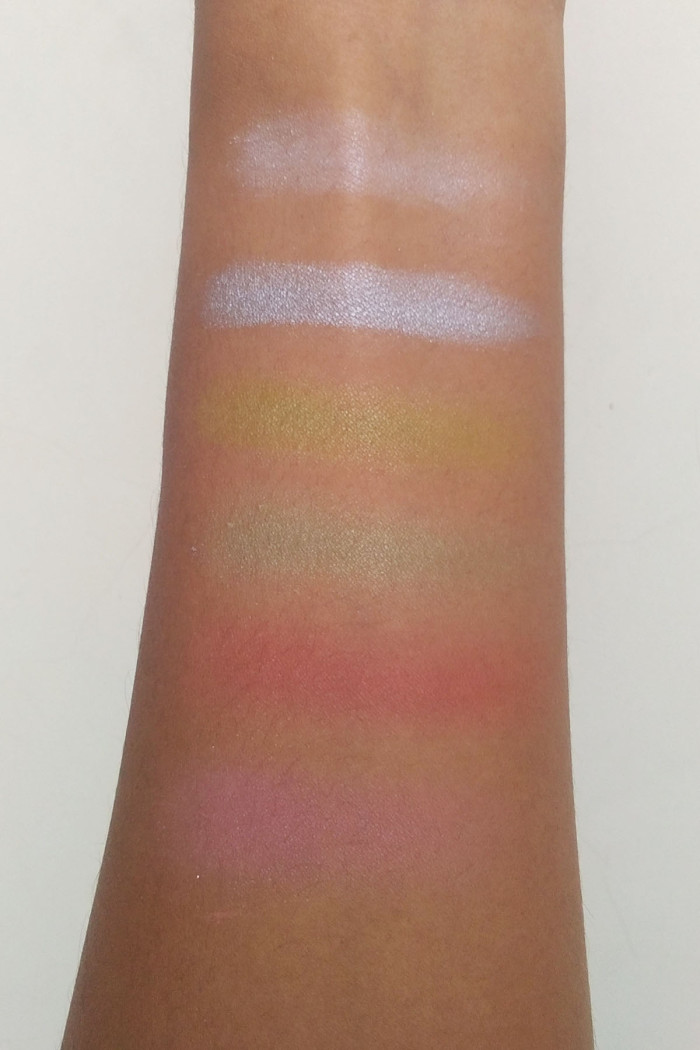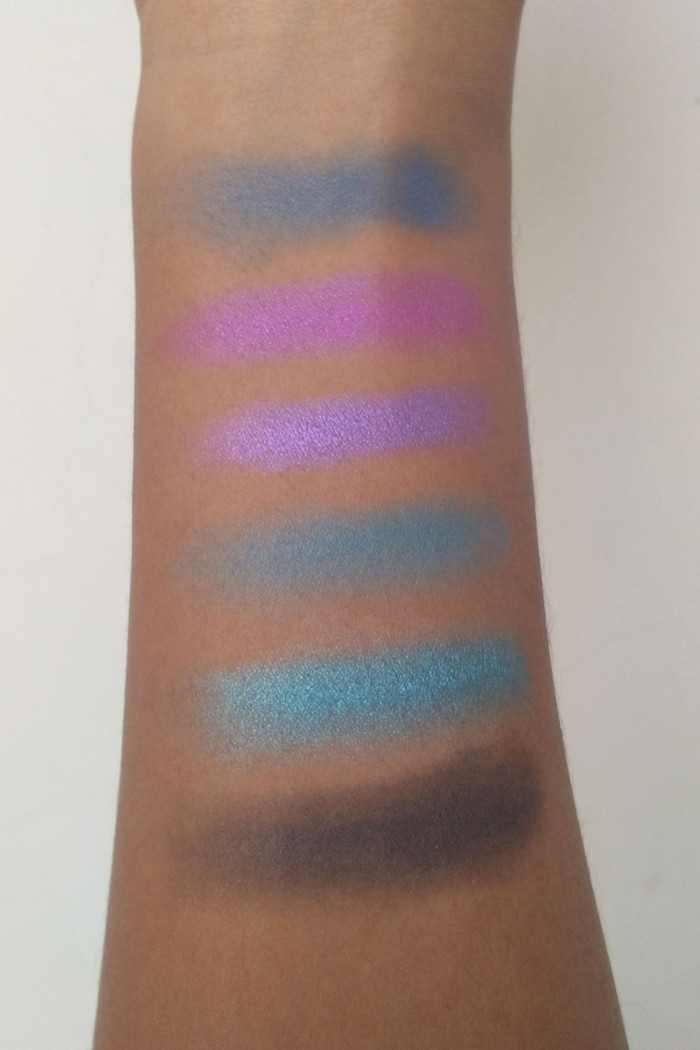 Untuk pigmentasinya sih lumayan oke terutama untuk warna-warna ungu dan biru. Suka banget dengan hasilnya. Untuk warna-warna terangnya sih nggak terlalu pigmented kalo nggak menggunakan base. Yang paling nyebelin sih warna hitamnya sih. Ternyata nggak terlalu hitam. I expected it to be super black, well kelihatannya sih gitu.
Eyeshadow ini lebih baik dipakai dengan base dan primer agar warnanya lebih intense dan tahan lama. Tanpa base butuh tenaga ekstra untuk apply berkali-kali dan kemungkinan creasingnya besar. Untuk ketahanan tanpa base nggak terlalu lama. Paling pake pas sarapan, brunch udah luntur.
Untuk aku dengan harga yang sangat terjangkau worth it banget. Aku pakenya cuma untuk nyoba-nyoba makeup look aja so I don't really mind the formula. Repurchase maybe, tapi kalo ada palette yang lebih banyak pilihan warnanya dan harga yang masih terjangkau, mungkin aku lebih pilih yang lain.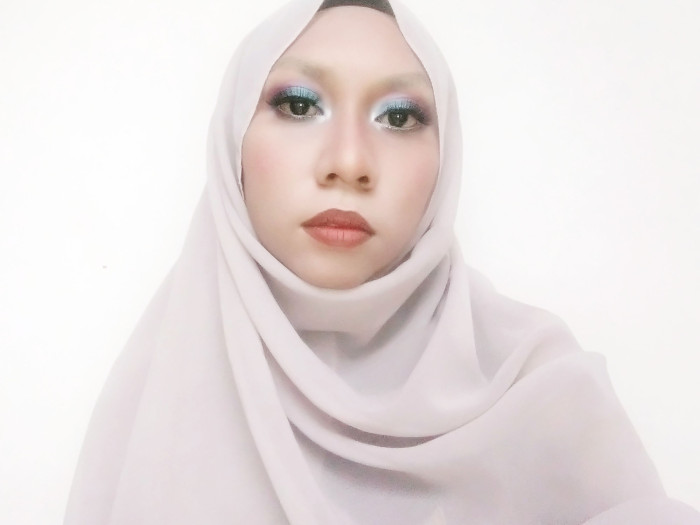 Foto aplikasinya. Sorry dandanannya aneh. Intinya kelihatan warnanya dan lumayan pigmented dengan base.
Product price: IDR 110.000
LA Girl Beauty Brick Eyeshadow Collection in Neons
Average rating:
2 reviews
Jan 3, 2018
Dari packagingnya, aku kurang suka sama eyeshadow LA girl. Dari segi performa, aku cukup kaget liat pigmentasi warnanya yang oke banget waktu di swatch pakai jari di tangan.Tapi setelah aku aplikasikan di mata dengan menggunakan brush, aku langsung kecewa berat. Warnanya sulit keluar atau bisa aku bilang pigmentasinya ga sebagus kalau di swatch di tangan pakai jari. Selain itu kurang awet. Sangat butuh waktu yang lama untuk menciptakan tingkat pigmentasi yang sempurna kalau tanpa base. Bener banget kalau pakai eyeshadow LA girl harus banget pakai base supaya warnanya lebih keluar dan tahan lama.
Apr 5, 2017
Aku punya yang shade ULTRA. Semua warnanya itu tururan dari warna Ungu, dari yang muda sampai yang tua. Dan setuju banget kalau warnanya lumayan pigmented dengan base, tapi kalau tanpa base agak kurang sih menurutku. Untuk shade ULTRA kesemua warnanya itu mengandung shimmer, tapi tetep oke untuk makeup harian karena nggak mencolok banget, dan harganya juga terjangkau. I Love It.
Packaging rating

Product rating

Price rating