Brand Mediheal akhir-akhir ini sangat booming karena produk sheet masknya yang bermacam-macam dan memgatasi berbagai masalah pada kulit dan bahkan menjadi favorite. Mediheal sendiri terkenal dengan bermacam-macam produk sheet mask nya dan solusi yang ditawarkan dengan berbagai variannya mulai dari merevitalisasi kulit, mengencangkan pori-pori, menghidrasi kulit, hingga calming redness/iritation.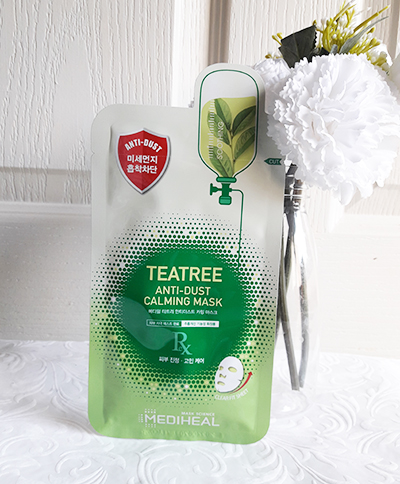 Mediheal merilis new version dari varian tea tree dan NMF. Let's review…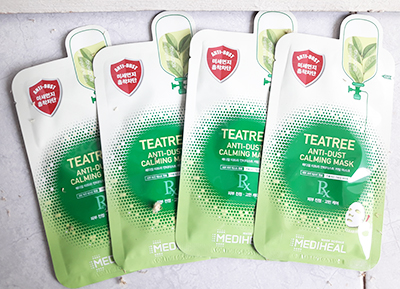 Description

Moisturizing + exfoliation / Anti-Dusk Mask to help with skin irritation care
It effectively delivers effective ingredients that perform skin barrier function to irritated skin, soothes skin and prepares healthy and smooth skin.
Moisturizing skin with mask pack
Ample skin elasticity and nutrition
Skin temperature reduction effect
Packaging
Packagingnya hampir sama dengan produk sheet mask mediheal lainnya bahkan warnanya sama dengan mediheal Tea Tree Care Solution EX, hanya saja warnanya lebih dominan hijau. Untuk konsep packagingnya masih sama yaitu dengan kemasan yang ada infusnya. Keterangan penggunaan sheet mask, dan ingredients di tulis dalam bahasa inggris dan korea.
Claim and Ingredients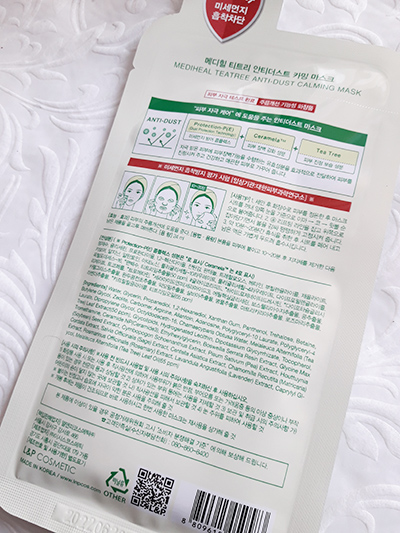 A refreshing sheet mask formulated with tea tree leaf oil, pine needle and portulaca oleracea extracts. This mask helps control sebum secretion as well as soothes dry and irritated skin.
Mengandung 3 komponen utama, yaitu: Protection P(E) sebagai dust protection technology, Ceramela, dan Tea Tree.
Ingredientsnya Tea Tree, Ceramide, Centella Asiatica yang memang berfungsi untuk menenangkan kulit serta melindungi skin barrier kulit.
How to use: Setelah cleansing dan toning, aplikasikan sheet mask pada wajah dan tunggu hingga 15-20 menit.  Lalu kemudian angkat sheet mask.

Review
Tea Tree dikenal sebagai salah satu bahan untuk menenangkan kulit. Kebetulan kemarin kulitku sedang bermasalah karena iritasi pada salah satu produk skincare. Jadilah akhirnya saya mencoba mencari solusi dengan menggunakan sheet mask.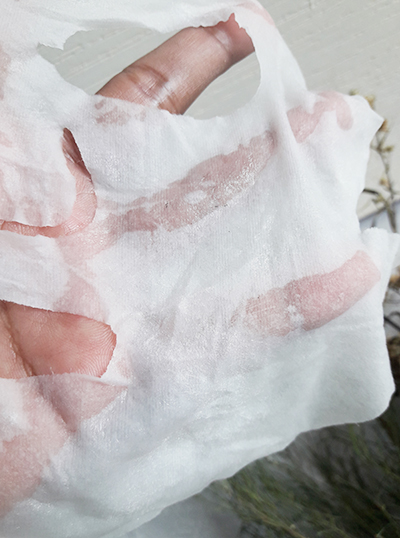 Lembaran sheet mask nya sama seperti produk sheet mask lainnya, yaitu sheet mask tissue. Tidak tebal dan tidak terlalu tipis pula. Teksturnya halus, no serat sama sekali.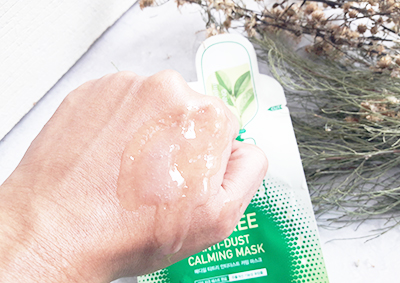 Essencenya lumayan banyak dengan aroma tea tree yang tidak menyengat sama sekali dan aku suka. Efek soothing langsung terasa saat penggunaan pertama, sensasi dinginnya bikin ketaguhan dan itu berlangsung setidaknya 1 menitan. Tidak ada kesan clekat-clekit sama sekali meski baru pertama kali pakai.
Setelah 20 menit pertama yang dirasakan adalah efek hydrating yang terasa dan fresh. Selain itu kulit yang terlihat merah-merah karena iritasi ringan bisa kembali pagi harinya, serta bibit jerawat alhamdulillah tidak jadi tumbuh.
Overall, sheet mask ini bisa menjadi solusi yang sedang mencari sheet mask untuk kulit iritasi ringan serta untuk melembabkan kulit serta membuat wajah fresh pada pagi harinya.
Product price: IDR 15.000 – IDR 25.000
Tampil Cantik
Average rating:
0 reviews
Packaging Rating

Product Rating

Price Rating