Ada yang sudah pernah mendengar brand ini?, JM Solution. Brand yang tergolong baru dan jarang ditemui di Indonesia ini punya macam-macam sheet mask yang patut untuk dicoba. Kali ini saya berkesempatan mencoba sheet mask yang sedang booming dikalangan beauty blogger.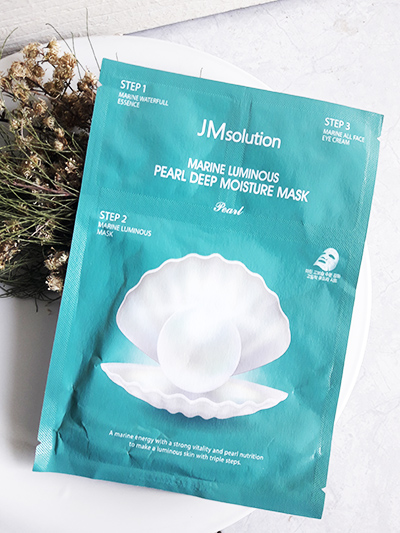 JM Solution Marine Luminous Pearl Deep Moisture Mask
Sheet mask ini memiliki jenis sheet mask yang bermacam-macam tiap variannya. Alasan saya mencoba sheet mask ini karena penasaran dengan 3 step dalam 1 sheet mask, terlebih lagi sheet mask ini menitikberatkan pada klaim moisturizing.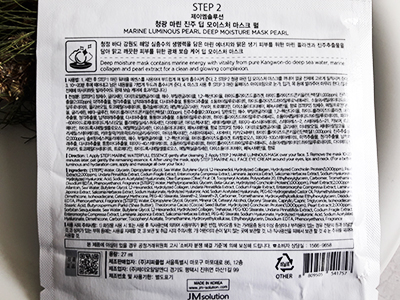 PROODUCT DETAIL
Formulated with marine collagen and pearl extracts to firm, moisturize, brighten and revitalize skin.
Comes with boosting essence(1.5ml) and eye cream(1.5ml) which is convenient for travel & special care.
Enriched with low, medium & high molecular hyaluronic acid to provide deep, intense hydration
Ultra thin, tencel sheet holds the essence effectively and delivers deep into skin for a vitalizing glow, luminous complexion
Helps to diminish the appearance of fine lines, dehydration and dullness.
PACKAGING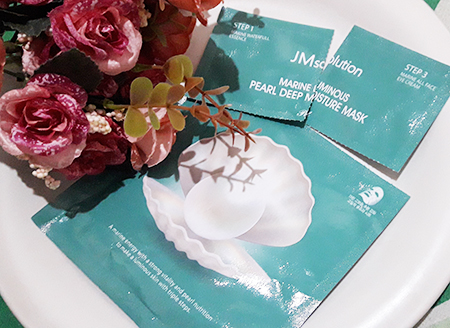 Datang dengan kemasan berwarna hijau dengan logo pearl ditengahnya. Sheet mask ini terdiri dari 3 step, yang digunakan dalam satu kali pemakaian.
Step 1: Marine Waterfull Essence
Step 2 : Marine Luminous Pearl Depp Moisture Mask Pearl
Step 3 : Marine All Face Eye Cream
Bagian depan kemasan tedapat gambar pearl beserta keterangan nomor step. Keterangannya dalam dua bahasa yaitu korea dan English, yang terdiri klaim, direction dan Ingredients.
KLAIM
A marine Energy with a strong vitality and pearl nutrition to make a luminous skin with triple steps.
Step 1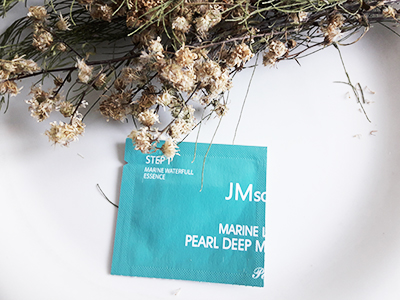 Hydrating Essence that can be used not only around your sensitive eyes and neck but also, all over your face contain triple Hyaluronic Acids and Marine energy for a luminous complexion.
Step 2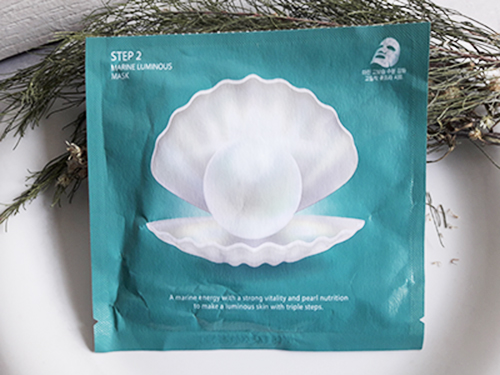 Deep Moisture mask contains marine energy with vitality from pure kangwon-do deep sea water, marine collagen and pearl extract for a clean and glowing complexion
Step 3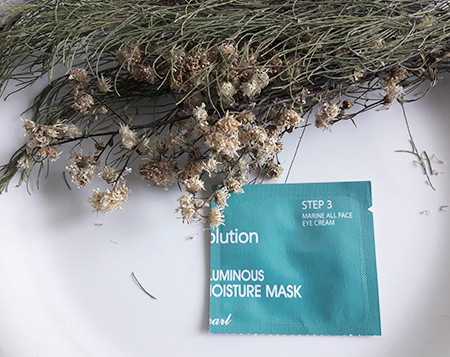 All face eye cream that can be used not only around your sensitive eyes and neck but also all over your face contains triple hyaluronic acids and marine energy for a luminous complexion.
REVIEW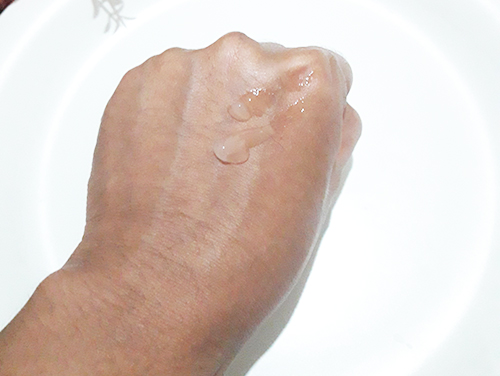 Step 1
Seperti biasa setelah kulit bersih dan sebelum pemakaian sheet mask, kulit harus lembab terlebih dahulu dengan menggunakan hydrating toner/essence. Gunakan essence pada sheet mask ini pada step 1. Berteksture gel bening, gel essence ini mudah meresap dan memiliki efek sooting untuk sesaat setelah diaplikasikan. Hasilnya kulit lembab dan bisa dilanjutkan pada step 2, yaitu menggunakan sheet mask.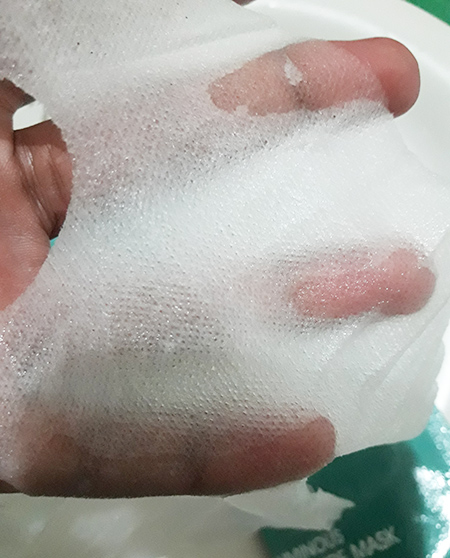 Step 2
Sheet mask. Menggunakan sheet mask menjadi pilihan favorite yang membatu kulit semakin terhidrasi dan terasa smooth, setelah menggunakan gel essence pada step 1. Essence didalamnya seperti essence pada umumnya, liquid thick dan transparan. Teksture serat sheet masknya berbeda dengan sheet mask seperti biasanya, yaitu ada lubang-lubang kecil pada sheet mask. Ada efek soothing setelah menggunakan untuk bebrapa menit serta aromanya floral yang enak banget.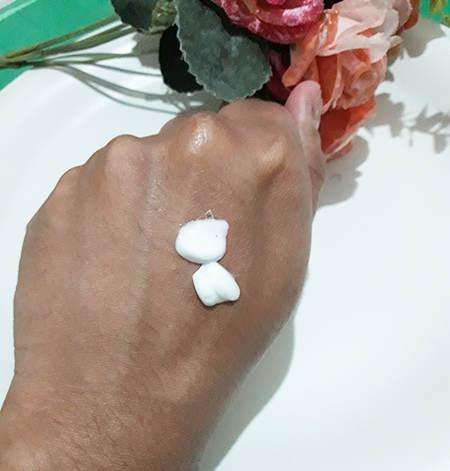 Step 3
Setelah menggunakan sheet mask selanjutnya step terakhir, yaitu face cream untuk moisturizing wajah. Face eye cream ini teksturnya white thick cream dengan teksture yang sangat lembut. ketika saya memakainya, paling enak dengan memijat wajah. Hasilnya sangat melembabkan dan kulit terasa sangat smooth dan kenyal.
Oh ya, sejauh ini menggunakan sheet mask ini tidak menimbulkan efek negative di kulit. Selain itu sheet mask ini sangat recommended untuk dibawa travelling sebagai simple skincare tanpa memakan banyak tempat.
Product price: IDR 20.000
JM Solution Marine Luminous Pearl Deep Moisture Mask
Average rating:
1 reviews
Oct 18, 2019
Aku udah lama sebenernya kenal sama brand ini cuma baru cobain sheetmask mereka taun lalu dan baru officially masuk indonesia tahun ini. Dan aku jg berkesempatan coba yang varian ini karena ada event Try & Review. Pertama utk essencenya aku suka karena dia gak terlalu thick dan wanginya gak menganggu. Kedua sheetnya tipis, serumnya jg banyak namun tidak berlebihan. Aku diemin selama 20 menit dan aku ngerasa mukaku seger bgt, cerah juga dan bikin plumpy. Utk face and eye creamnya aku suka jg dan walo teksturnya tebal dan berwarna putih namun setelah diaplikasikan tidak meninggalkan stain. Love pokoknya. Beli lagi sih tp yg varian lain
Packaging Rating

Product Rating

Price Rating