Menggunakan Sleeping Pack memiliki fungsi yang bagus untuk kulit selain hydrating, moisturizing juga merevitalisasi dan mengurangi kekusaman pada kulit wajah pagi harinya. Meski tidak menggunakan setiap hari tapi sleeping pack masuk dala kategori skincare rutin yang paling tidak digunakan 3 kali seminggu.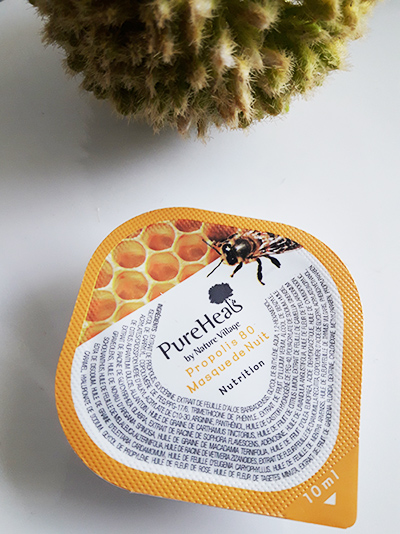 Sebagai pecinta propolis dan beringredients madu saya akhirnya diberikan kesempatan untuk mencoba produk ini. yang penasaran, baca sampai habis ya..
ABOUT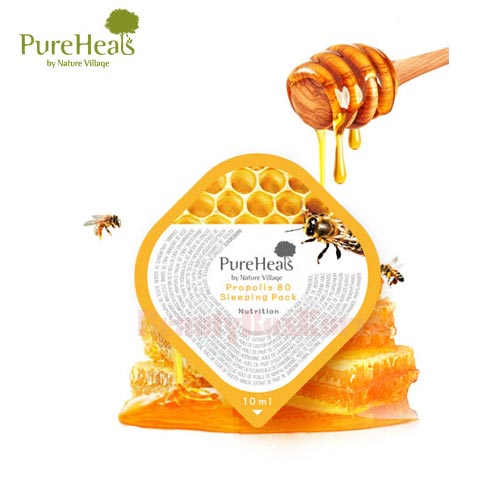 PureHeals' story began in Jeju island, where our scientists researched and developed patented botanical extracts. During our journey, we discovered the power of pure natural ingredient for the skin, hence, we developed a special formula based on concentrated organic extracts and made our brand's philosophy 'Healing the skin with Nature's Pureness' We strife to establish a skin care line that creates a harmony of Pure Nature & Skin Science, with the aim of revitalizing and soothing the skin.
CLAIM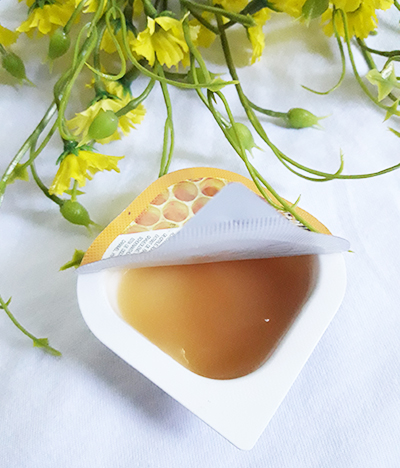 Krim Propolis 80 Sleeping Pack dalam kemasan kapsul travel size Krim malam yg mengandung 80% ekstrak propolis untuk menghasilkan kulit sehat, bercahaya. Diperkaya dengan 16 macam minyak herbal untuk menutrisi kulit secara intensif. Efektif melembabkan dan melindungi kulit sepanjang malam dengan pembentukan lapisan amphiphilic yg juga dapat menenangkan kulit sensitif.
REVIEW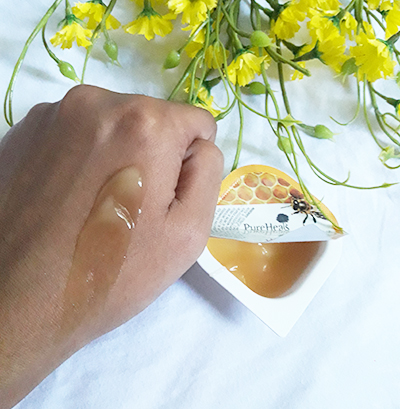 Texture produk ini cair seperti vla pudding berwarna kuning namun tidak kental sama sekali. Aromanya campuran madu, citrus, dan herbal, sweet dan tidak terlalu strong. Enak banget. Warnanya sama seperti madu dengan simple dan mini packaging. Isinya 10 ml dan cukup digunakan hingga 4 kali pemakaian.
Klaim propolis sendiri adalah memperbaiki teksture kulit, sebagai anti bacterial, melembabkan serta mengurangi redness akibat iritasi pada kulit. Oh ya propolis ini sangat bagus untuk all type skin terlebih lagi sensitive skin, rawan iritasi dan yang sering mudah timbul jerawat.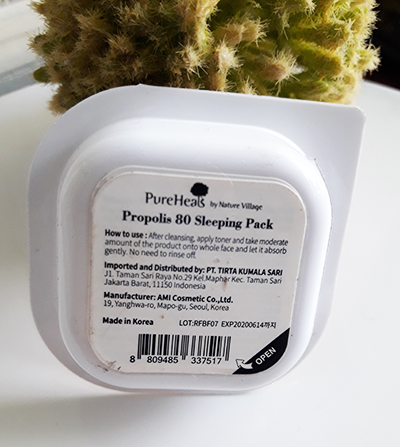 Keterangan yang ada dibelakangny menggunakan bahasa indonesia jadi lebih mudah untuk dipahami cara pemakaiannya. Cara Pemakaian sleeping pack ini sama seperti sleeping pack produk lainnya yaitu setelah membersihkan wajah, lalu mengaplikasikan toner, emulsion/essence lalu oleskan secukupnya ke seluruh wajah dan leher, dan diamkan sepanjang malam. Tidak perlu di bilas.
Pada saat pemakaian produk ini kulitku memang sedang dalam bermasalah yaitu timbulnya redness akibat over exfoliating sehingga kulit menjadi lebih sensitive. Setelah itu saya coba mengaplikasikan sleeping pack ini. Awalnya sedikit perih, karena kulit saya sedang iritasi namun setelahnya justru enak dipakai.
Pagi harinya kulit saya teasa lebih halus dan lembab setelah dibersihkan dengan air. Untuk jerawat kecil jerawat kecil-kecil dan dibeberapa area lumayan bisa calming. Untuk hidrasinya juga tergolong bisa tergolong seharian ditambah dengan hydrating toner dan sunscreen.
Product price: IDR 58.000
Tampil Cantik
Average rating:
0 reviews
Packaging Rating

Product Rating

Price Rating

Summary

Repurchase? Maybe