Hai, hari ini aku mau ngereview eyeshadow pallete terbaru dari catrice. Yaitu The Precious Copper Collection Eyehadow Pallete yang nomor 010 Metallux.
Sekarang langsung aja ke review produknya ya. Untuk packaging menurutku sih cantik banget, sturdy dan sleek. Aku suka banget dengan penulisan font dan semua aspeknya. Cantik banget dan gak keliatan cheap.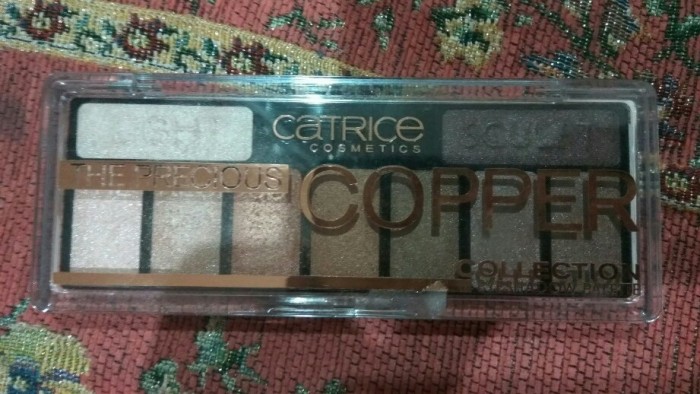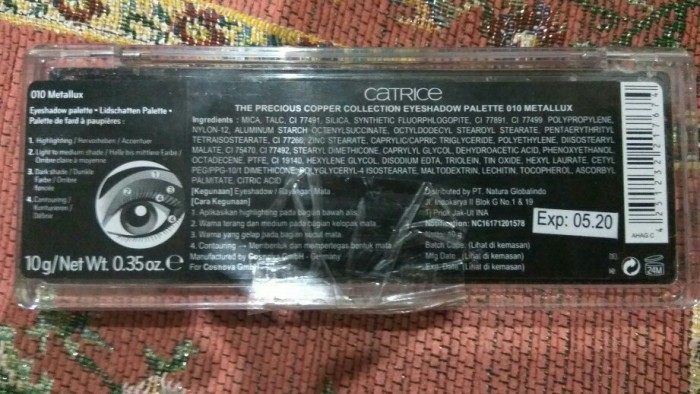 Di dalam packagingnya gak ada cermin dan kuas, which is okay for me. Untuk pemilihan warna aku gak terlalu suka karena terlalu cool toned, tapi karena semuanya shimmer jadi emang pada dasarnya pemakaiannya gak bias tanpa pallete lain sih. Pigmentasinya bagus banget, walaupun shimmery, bukan berarti shimmernya bertebaran kemana-mana. Shimmernya lumayan stay selama gak di kucek-kucek. Ketahanannya lumayan untuk shimmery eyeshadow, 4-5 jam masih ada di oily lids ku. Teksturnya lumayan creamy walaupun saat di swatch lumayan powdery tapi falloutnya gak terlalu banyak untuk ukuran shimmery eyeshadow.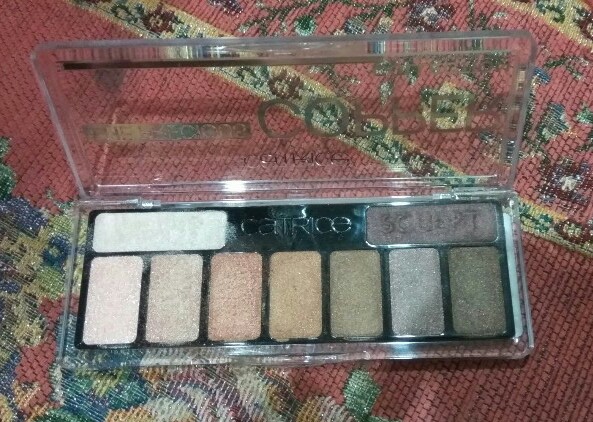 Eyeshadow pallete ini semuanya mempunyai shimmer yang cukup terlihat. Dan pilihan warnanya bervariasi dari champagne sampai dark chocolate. Tapi walaupun kelihatannya pallete ini warm tone, saat di swatch terlihat sekali kalau warna-warnanya lebih masuk ke cool toned. For me, that's a problem. Kalau menurut teori sotoyku, sebenarnya memang catrice ini pasarannya bukan untuk kulit-kulit warm tonednya orang Asia, karena terlihat dari beberapa produknya kebanyakan mempunyai base shade yang cool toned, seperti range shade di foundation dan concealernya yang hampir semua berdasarkan cool toned, yang paling masuk ke warm toned Cuma warna-warna yang dasarnya beige, bukan yellow tone.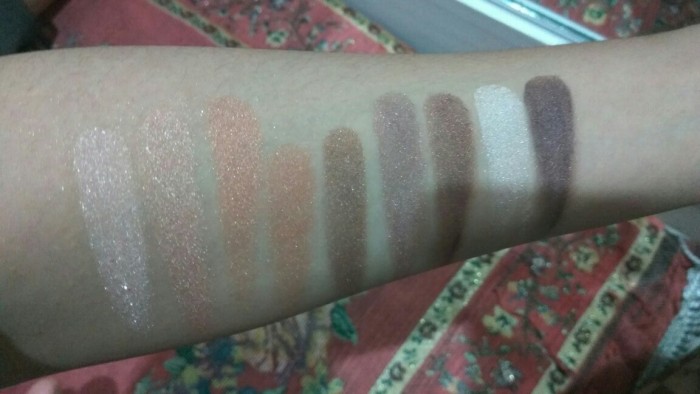 Its not a pallete that I reach daily, but it certainly a pallete that I reach for an event or party cause its so nice. Its not the most practical thing to use, but its quite travel friendly since its small and sturdy. You still have to bring your brushes. If its okay for you, then you need this pallete.
Plus:
– kemasannya cantik dan gak cheap
– ketahanannya lumayan untuk di kulit oilyku, tapi kalau super oily mungkin tetap harus ditambah primer ya
– shimmernya mild, gak terlalu powdery looking, jadi tetep keloatan soft dan natural
– harganya murah, cuma 88 ribu di drugstore2, even cheaper di online shop kaya shoppe dan tokopedia
– kemasannya sturdy jadi travel friendly banget
Minus:
– walaupun kebanyakan pilihan warnanya earth tone yang harusnya warm, tapi di kulitku kerasa terlalu cool tone. Kulitku kuning langsat btw
– sedikit fallout, walaupun bisa diakali sih jadi gak terlalu masalah
– gak ada brush. Ini minus untuk yang males bawa2 brush set untuk travelling, tapi kalau emang kamu terbiasa dengan brush dan gak masalah bawa brushnya kemana-mana sih fine aja
Product price: IDR 88.000
Catrice Cosmetics The Precious Copper Collection Eyeshadow Palette
Average rating:
1 reviews
Jan 14, 2019
Palette barunya Catrice ini memang lebih baik daripada palette pendahulunya, tapi tetep aja saya lebih suka single eye shadownya. Mungkin karena dia shimmer semua sih, jadi teksturnya lumayan lah. Tetep siiiih, saya nggak suka sama teksturnya yang powdery banget, dan setelah diblend entah kenapa jadi kayak cuma pake satu warna eyeshadow. Nggak keliatan kayak saya pake banyak warna, gitu.. Kayak ilang aja warnanya di kelopak mata..
Packaging rating

Product rating

Price rating