Haloo…
Kali ini mau review produk yang aku dapatkan dari Tampil Cantik x Utama Spice.
Yaitu…..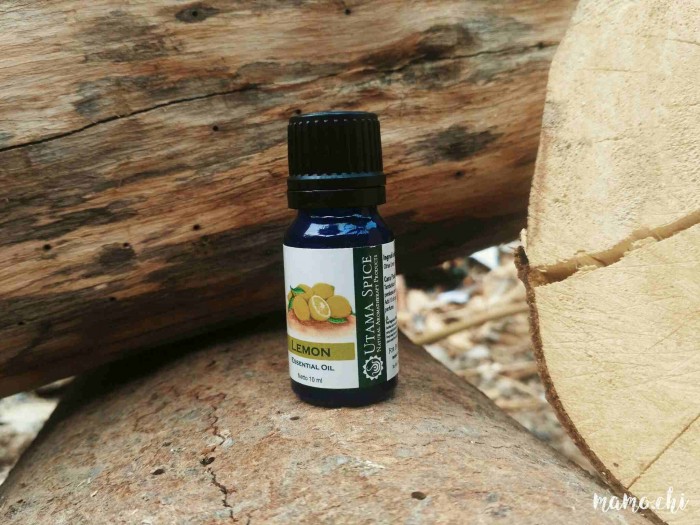 Utama Spice Lemon Essential Oil
Bagi yang belum tau, Utama Spice itu…
Utama Spice is a traditional skincare company based in Ubud, Bali. We focus on applying ancient Balinese herbal knowledge to create products that not only enhance your skin's natural beauty but also provokes your mind to consider the raw power and beauty of nature. We do this by using only 100% pure natural ingredients. We got our start in 1989 when Dayu Suci and Melanie Templer saw a need to retain Bali's amazing herbal knowledge and traditions. This knowledge was being quickly lost with the advent of modern products containing dangerous chemicals. As the demand for traditional remedies declined, the herbs and spices used in these remedies were too quickly being lost further perpetuating the cycle. Dayu, with her extensive knowledge of traditional Balinese remedies, and Melanie, with her never ending quest to discover the wonders of the natural world, quickly rediscovered the amazing benefits of essential oils and other natural ingredients. They started making their remedies by hand for their loved ones. We have continued their passion today in the hope of sharing their discoveries with you and your loved ones.
Yups, kesimpulan nya Utama Spice adalah Produk Skincare Tradisional dari Bali.
Dari sekian banyak produk perawatan kulit tradisional dari Bali, Utama Spice menjadi salah satu yang paling terkenal.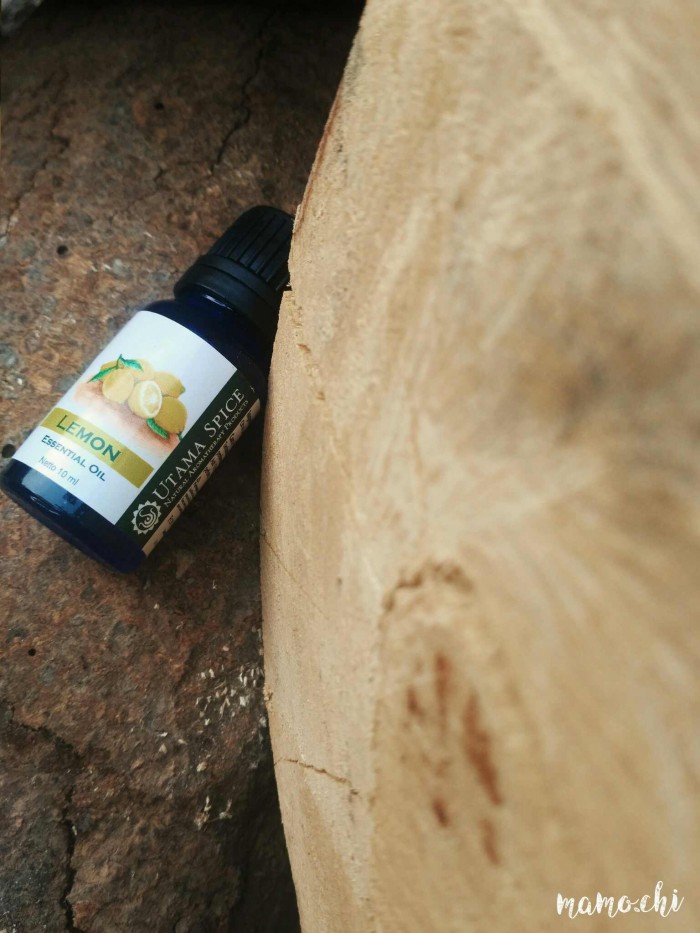 Dan untuk produk nya sendiri, ini penjelasan nya..
A sweet citrus aroma with a sharp note wheninhaled. Anti-infection, astringent, detoxifying, antiseptic, disinfectant, and antifungal properties. Can be used for a broad spectrum of conditions including cleansing and purification, oral health, digestion, and stress relief. Use as natural disinfectant and room deodorizer, stress relief and sleep, decongestant.
….
Untuk essential oil nya sendiri, dikemas dalam botol biru tua dan mempunyai isi 10ml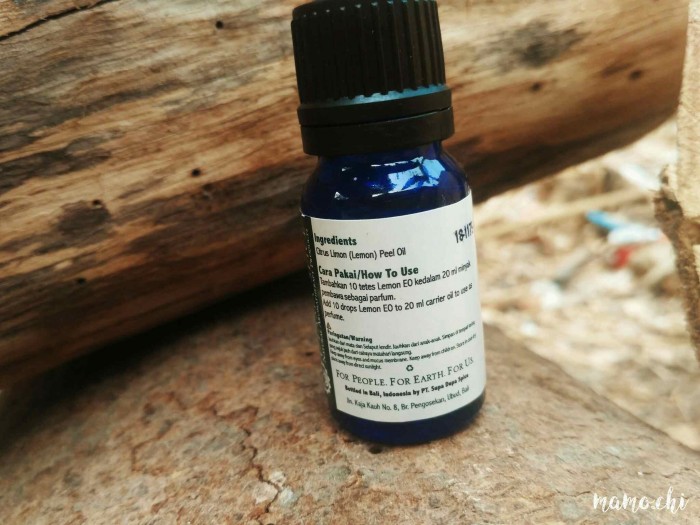 Imformasi di belakang botol nya sendiri cukup lengkap, to the point gitu wkwk.
Dan bisa dilihat, bahan – bahan nya cuman kulit lemon aja, jadi pure..
Dan disana tertulis juga cara pakai, cuman aku pakai dengan Ceramic Diffuser juga sih hehe..
Kadang aku pakai di pergelangan tangan pas stress atau capek.
Karena buatku, itu membantu banget hehe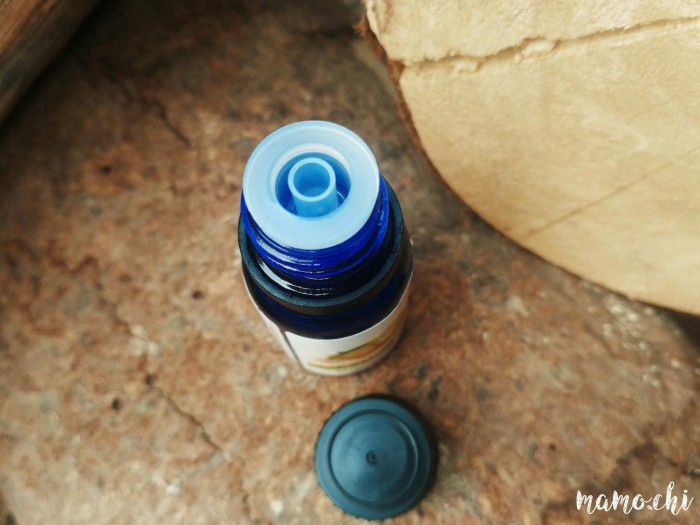 Setelah tutupnya dibuka, ada semacam dropper ehh apa yah namanya pokoknya itu buat tetesin.
Keluarnya juga dikit – dikit, jadi bisa di kontrol.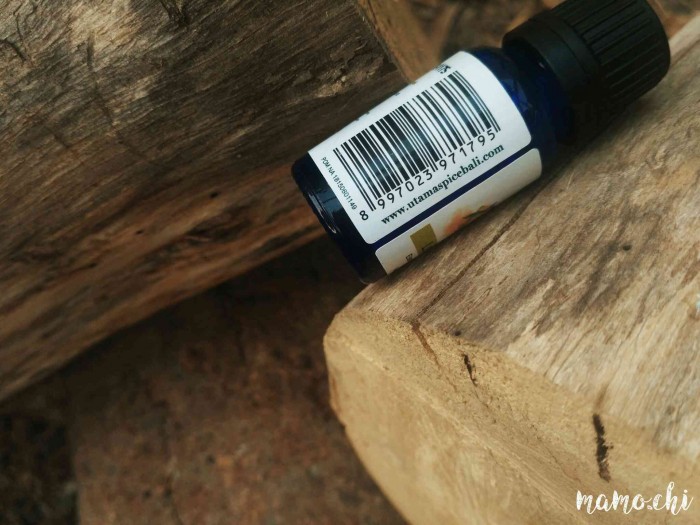 Dibagian belakang – samping, ada barcode nya dan web dari Utama Spice itu sendiri.
Cukup suka dengan kemasan nya warna nya juga bagus, biru ❤
Kesimpulan :
Harganya masih terbilang murah
Wangi nya segar, lemon
Bisa buat calming pikiran pas stress
Untuk relaksasi juga bagus
Pas pusing, juga bisa pakai ini, tinggal di oles ke pergelangan tangan udah, diciumin deh haha
Bisa dipakai dengan Ceramic Diffuser juga, top deh
Wangi nya kurang strong(?)
Ehh ini kesimpulan apa gimana yah wkwk
pokoknya itu yang aku rasakan haha.
Untuk saat ini, aku suka dengan ini, dan mungkin akan coba aroma lain (incer jasmine atau lavender kalo ada).
 Sampai disini saja review-nya kali ini, semoga membantu untuk yang sedang stress karena pacar atau tugas wkwkw ataupun ibu rumah tangga yang pengen merasakan rilex, ini patut dicoba. 
Product price: IDR 51.500
Sponsored by: Utama Spice
Info lengkap tentang produk-produk Utama Spice dapat dilihat di:
Website: https://utamaspicebali.com/ 
Instagram: https://www.instagram.com/utamaspice/
Facebook: https://facebook.com/UtamaSpiceBali
Utama Spice Lemon Essential Oil
Average rating:
1 reviews
Oct 24, 2018
Utama spice essential oil ini biasanya aku pakai sebagai campuran body lotion gitu. Aku paling suka sama wanginya, wangi citrus lemon gitu nyegerin banget. Terus juga entah ini perasaan aku aja atau gimana, kalau body lotionnya aku campur sama si essential oil ini, si body lotionnya jadi less sticky gitu. Plus minus sih, menurutku. Plusnya, enak jadi ga lengket body lotionnya. Minusnya, body lotionnya jadi ga begitu kerasa lembabnya.
Packaging rating

Product rating

Price rating

Summary

Repurchase? Yes, coba varian lain hehe