Halo guys ketemu lagi dengan aku Luci ^_^
Jadi hari ini aku mau review serum yang katanya bagus untuk menghilangkan acne scar atau bopeng yaitu Beautee Nano Scar Serum. Produk ini jadi wishlistku beberapa bulan dan seneng banget akhirnya bisa kesampaian cobain berkat redeem poin Tampil Cantikku ^_^
Dulu itu aku pernah mengalami jerawat parah dan tipe jerawatku itu adalah jerawat yang meninggalkan bekas bolong-bolong walaupun gak dipencet. Alhasil banyak scar bersarang diwajahku. Berbagai treatment sudah aku jalankan, tapi karena perlu dana yang cukup besar untuk mendapatkan kulit yang mulus, akhirnya aku putuskan untuk mencoba treatment Dermapen di rumah ^_^
Kemasan Beautee Nano Scar Serum ini dilengkapi dengan kemasan box yang sangat simple dan serum ini juga dijual eceran oleh online shop. Mungkin karena harganya masih tergolong mahal jadinya banyak yang mau coba dulu supaya gak mubazir kalo beli banyak ternyata gak cocok di kulit ^_^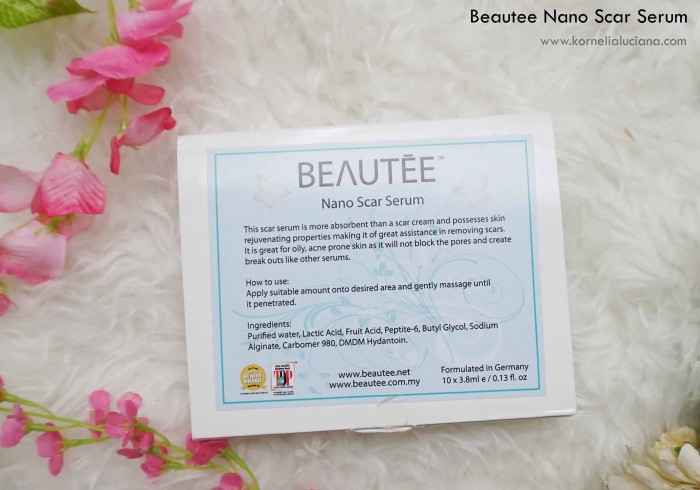 DESCRIPTION
This scar serum is more absorbent than a scar cream and possesses skin rejuvenating properties making it of  great assistance in removing scars. It is great for oily, acne prone skin as it will not block the pores and create break outs like other serums.
HOW TO USE
Apply suitable amount onto desired area and gently massage until it penetrated
 INGREDIENTS
Purified water, Lactic Acid, Fruit Acid, Peptite-6, Butyl Glycol, Sodium Alginate, Carbomer 980, DMDM Hydantoin.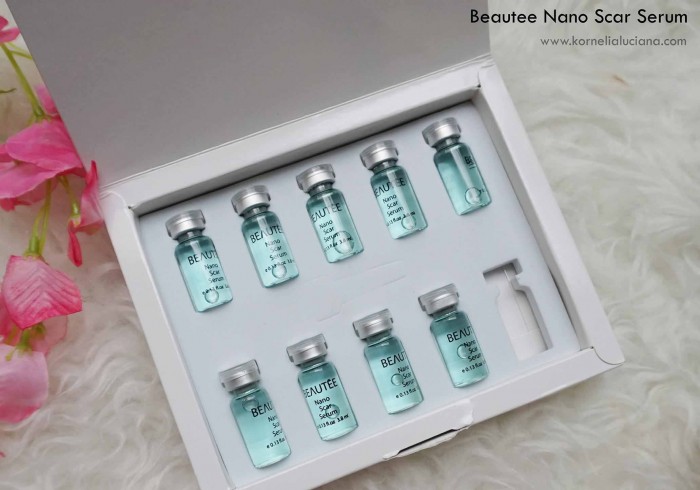 Serum ini aku gunakan dalam perawatan bopengku yang keempat menggunakan Dermapen. Tekstur serum ini jika secara kasat mata dilihat dari foto agak kental, tapi aslinya serum ini agak cair mirip air tapi gak cair-cair banget. Wanginya hampir gak kecium apa-apa, tapi anehnya setiap kali aku menggunakan serum ini mataku terasa perih seperti menggunakan masker freeman yang ada alkoholnya tapi perihnya gak lama sih.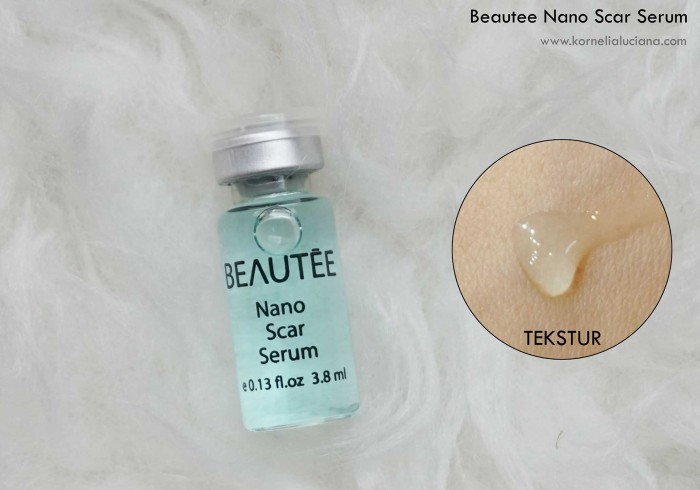 Setelah menggunakan Beautee Nano Scar Serum ini aku merasakan perubahan pada kulit yang cukup memuaskan. Untuk acne scarnya mungkin belum terlalu terlihat berubah drastis ya, cuma selama perawatan dermapen keempatku aku ngerasain wajahku terlihat lebih cerah, glowy dan juga warna kulitku jadi lebih merata. Bekas-bekas jerawat yang dulu kadang masih terlihat merah mulai memudar.
Aku cukup puas menggunakan serum ini tapi mungkin setelah serum ini habis aku akan coba serum lainnya yang denger-denger sih hasilnya lebih bagus dari serum ini. Semoga bisa kesampaian ^_^
Ok guys, sekian review hari ini. Jika dari kalian ada yang pernah cobain serum ini, jangan lupa untuk comment dibawah ya ^_^
Have a nice day
Product price: IDR 280.000
Tampil Cantik
Average rating:
0 reviews
Packaging rating

Product rating

Price rating