Hai, hari ini aku mau ngereview highlighter yang udah aku lama banget, yaitu city color Sunlight trio.
These days, udah banyak banget highlighter drugstore yang kualitasnya 11 12 dengan highlighter high-end. Dari yang finishnya subtle sampai yang finishnya super blinding. This city color highlighter masuk ke kategori almost blinding, yang buildable banget. Jadi kalau aku lagi mau ke event yang akan banyak artificial lightnya aku biasanya pakai ini karna akan cantik banget pas udah kena cahaya. Tapi kalau untuk outdoor aku biasanya pakai highlighter lain yang lebih soft looking dan natural.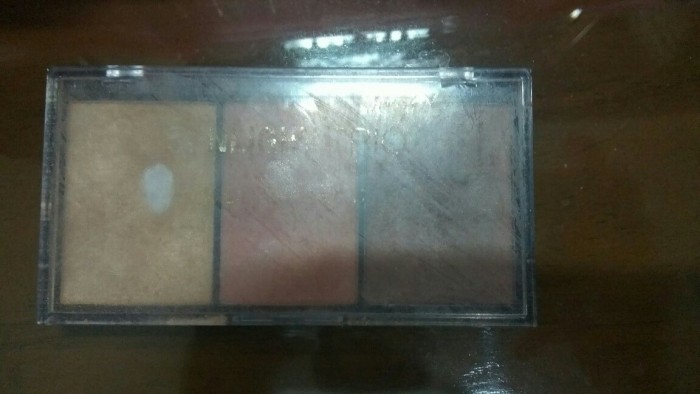 Hmm review lengkapnya kita mulai dari kemasannnya ya, kemasannya berbentuk kotak hitam yang tutupnya transparan, jadi gak ada cermin di dalam kemasannya. Which isn't a problem for me, because my other makeup has mirror on them anyway. Dibelakang kemasannya ada ingredientsnya. Dan another good thing is that this highlighter is cruelty free! Yay.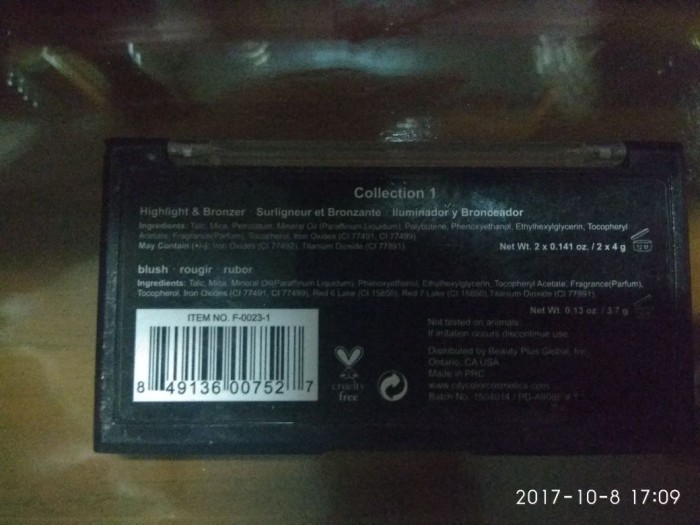 Di dalam satu kemasan terdapat 3 warna highlighter yang cantik-cantik banget. Gold, rose gold dan bronzy. Dan semuanya super pigmented, super metallic, super shimmery ( tapi shimmery yang sheen gitu, jadi keliatannya metallic banget dan cantik banget. One of my favorite shade is the gold one. Its really beautiful dan goldnya keliatan banget. It can be a lil bit too much for daily look, tapi kalau lagi ada event atau mau pergi ke mall gitu, it could be a really georgeus gold. Yang rose gold is a lil bit too cool toned for my liking, but its also a beautiful shade to put on top of my blush when I'm not really in the mood for my normal shade of highlighter. Yang bronzy aku jarang banget pake sih untuk sehari-hari ataupun kalau mau pergi, karna sejujurnya warna shimmery bronze untukku lebih kepakai di daerah mata, bukan di muka. I usually use it when I play around with my make up dan untuk kepentingan foto karena sekali lagi, pigmentasinya keren banget dan ketahanannya juga oke banget.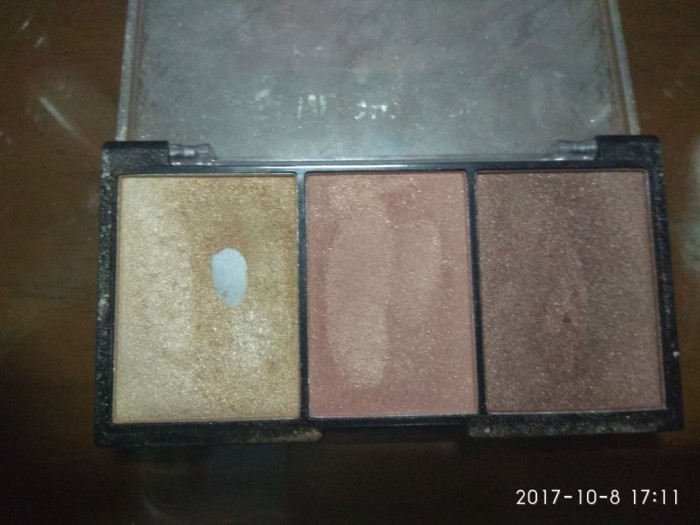 Jadi untuk kulitku yang oily, highlighter ini stay on lumayan lama, aku gak terlalu merhatiin sih, tapi 6 jam kayanya sih tetep stay (tapi kalau wudhu, shimmernya agak jalan-jalan ke bagian lain di muka). Yang aku suka juga walaupun shimmernya gila-gilaan, tapi highlighter ini gak  bikin muka jadi kaya disco ball yang shimmery all over gitu. The shimmers stay as long as you keep away from water.
Product price: IDR 110.000
City Color Sunlight Trio
Average rating:
1 reviews
Nov 10, 2017
Palette yang berisikan highlighter, blush dan bronzer ini termasuk palette yang terjangkau. Formula dari highlighter dan bronzer memiliki glitter yang besar dan sangat powdery sehingga produk riskan bubuk. Untuk warna blushnya warnanya pink dan matte. Kemasannya juga rapuh dan karena tutupnya bening membuat packagingnya cepat terlihat kotor. Untuk skintone medium, bronzernya terlalu orange, jadi aku lebih merekomendasikan untuk kamu pemilik kulit tan
Packaging rating

Product rating

Price rating