Lip product itu salah satu guilty pleasure aku, setiap sebulan seenggaknya aku punya 1 lip product baru. Setiap beli rasanya excited dan happy banget tapi kalau udah beberapa hari pakai biasanya akan menyesal karena baru sadar kalau budget yang dipakai untuk beli lipstick bias untuk beli yang lain, dan pola ini akan berulang terus tiap bulan hehe.
So, today I'm going to review one of my new addition. It's a lip cream from Maybelline, Vivid Matte Liquid by #colorsensational in shade MAT6. This is one of my  fave lip cream cause its so lightweight, pigmented, and really easy to re-apply. My lips always super super dry and cracky, but when I use this lip cream my lips never cracks nor gets flaky. Another thing is that the packaging is super cute, its simple and classy. And of course the price is super affordable since it's a drugstore product.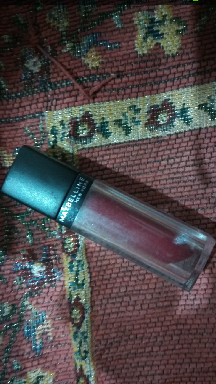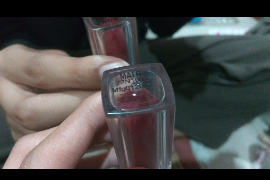 Hm, untuk packaging lip cream ini tubenya clear dengan tulisan Maybelline di dekat tutupnya. Aplikatornya unik(aku gak tau harus jelasinnya gimana, jadi liat di gambar aja ya) dan sangat sangat memudahkan untuk diaplikasikan di bibir. Bentuknya lebih pipih dari aplikator lip cream kebanyakan dan ujungnya juga lebih lancip, jadi memudahkan kita untuk menjangkau bagian dalam bibir tanpa beleber kemana-mana.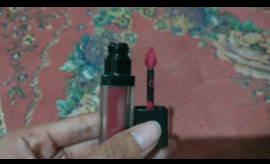 Untuk formulanya seperti yang udah kubilang, lip cream ini super lightweight, pigmented dan enak bangte untuk di reapply. Mungkin karena formulanya yang agak cair, jadi untuk ditumpuk rasanya nyaman-nyaman aja. Aku tipe orang yang males hapus lipstick dulu, jadi biasnya langsung numpuk lipstick gitu aja kalau mau reapply, so this one point is a big plus for me. Oya, walaupun namanya matte, tapi hasilnya masih agak satin ya, Cuma karena lightweight jadi untukku sih gak mengganggu sama sekali. Dan karena gak matte, lip cream ini juga gak transfer dan waterproof. Tapi ya tinggal reaplly sih, gak repot-repot amat untukku. Warnanya pink berry, jadi cantik banget. Bukan tipikal warna fall sih, tapi tetep cantik dan bikin cerah wajah.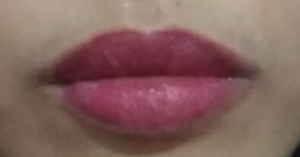 Product price: IDR 98.000
Maybelline Color Sensational Vivid Matte Liquid
Average rating:
1 reviews
Feb 22, 2018
Entah kenapa kok produk ini gak sesuai sama ekspektasi aku ya? Aku kira hasilnya akan matte, karena pas aku lihat teksturnya benar-benar seperti lip cream. Namun pada saat di aplikasikan ke bibir dengan aplikatornya terlihat seperti memakai lipstick. Lalu aku coba rapihkan dengan menggunakan jari, hasilnya jadi terlihat semi matte. Produk ini gak ada wanginya sama sekali jadi aku oke oke aja. Tapi sekarang aku jadi suka sama produk ini soalnya bisa di pakai setipis mungkin jadi terlihat natural. Oiya aku juga pakai shade yang MAT6 loh..
Packaging rating

Product rating

Price rating