Halo..
Saya adalah penggemar sejati masker, entah masker apapun saya suka yang penting bisa melembabkan wajah dan sesuai dengan kondisi kulit saya. Kali ini saya kembali review dari produk sheet mask yang telah gunakan beberapa waktu lalu. Sudah pada tahu belum Missha mengeluarkan new sheet mask yang mungkin bisa jadi referensi untuk dicoba.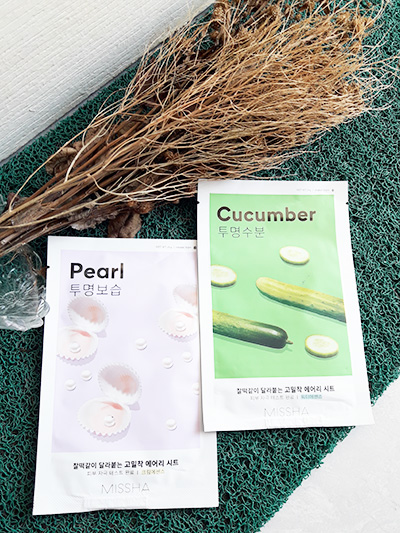 Missha Airy Fit Sheet Mask
Asing ya?. iyalah, saya juga baru tahu produk ini.
Yuk mari di review.
Seperti produk sheet mask lainnya, Missha Airy Fit Sheet Mask memiliki macam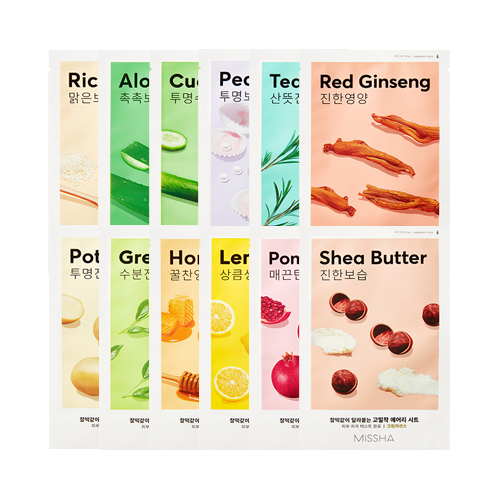 Pearl
Containing pearl extract with rich minerals for rough and dark skin, it helps to make skin look smooth and radiant.
Potato

Containing potato extract with rich vitamin for dark skin due to external stimulus, it helps to make the skin radiant and soothe the sensitive skin.
Cucumber
Containing cucumber extract with high moisture content for dry skin, it helps to provide clean and moist skin.
Tea Tree
Containing tea tree extract with excellent control of skin glossy for sensitive skin due to excessive secretion of sebum, it helps to keep skin fresh and soothe sensitive skin.
Green Tea

Containing fresh green tea extract for dry skin by dryness, it helps to provide moist skin.
Aloe Vera
Containing aloe vera extract with excellent moisturizing resistance for rough skin by dryness, it helps to strengthen the skin with forming a moisturizing layer.
Lemon
Containing lemon extract with rich vitamin for dark and dull skin, it helps to provide bright skin
Rose
Honey
Containing honey extract with rich various vitamins, minerals and essential amino acid for rough and dry skin, it helps to make skin look radiant.
Rice
Containing rice extract which has an excellent skin care for rough and dull skin, it helps to make the skin smooth and provide clean gloss.
Pomegrante
Containing pomegranate extract to help control skin elasticity for tired skin, it helps to make firm and smooth skin.
Red Ginseng
Containing red ginseng extract with rich nutritional ingredients for skin that has lost its strength, it helps to make skin healthy and beautiful.
Shea Butter

Containing an excellent moisturizing shea butter extract for dry and chapped skin, it helps to build a strong skin moisturizing layer.
DESCRIPTION
Perfect adhesion like glutinous rice cake!. Skin-fit daily sheet mask to deliver active ingredients to the skin effectively by sticky adhesion.
HOW TO APPLY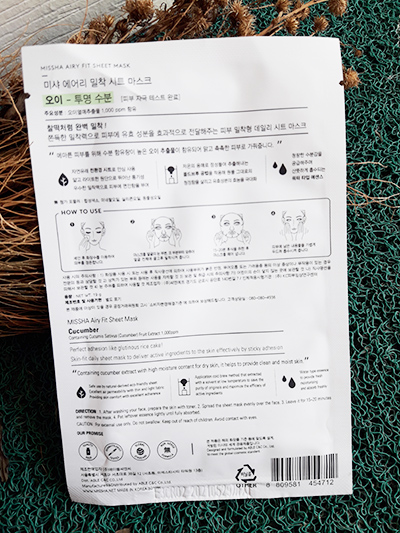 Setelah membersihkan wajah, aplikasikan toner dan lotion lalu tempelkan masker pada wajah sesuai bentuk masker termasuk area mata dan mulut. Usap pelan masker hingga benar-benar menempel pada wajah agar essence yang terkandung dalam mask sheet bekerja optimal untuk kulit. Diamkan selama 15-20 menit lalu lepaskan masker dan tepuk-tepuk essence yang menempel diwajah agar terserap sempurna.
REVIEW AND RESULT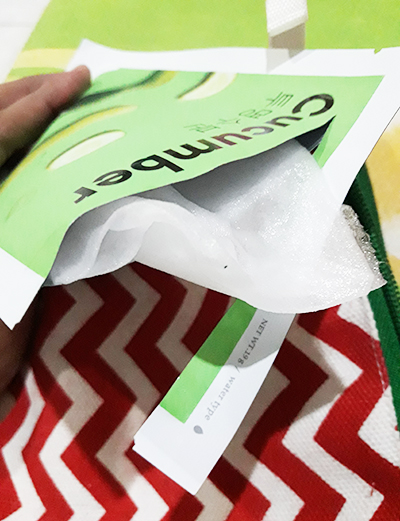 Packaging
Sama seperti mask sheet lainnya, Missha Airy Fit Sheet Mask datang dengan packaging plastic berwarna dan bergambar sesuai varian yang tersedia (Cucumber berwarna hijau dengan logo gambar cucumber). Keterangnnya dominant bahasa Korea, namun ada keterangan bahasa inggrisnya yang membantu mudah dimengerti.
Review
Kandungan utama dalam sheet mask ini adalah Cucumber Fruit Extract 1000 ppm yang menurut saya tinggi. For your information, cucumber juga sangat ampuh menghidrasi kulit. Nah bagi kalian yang mencari sheet mask untuk menghidrasi kulit, bisa dicoba.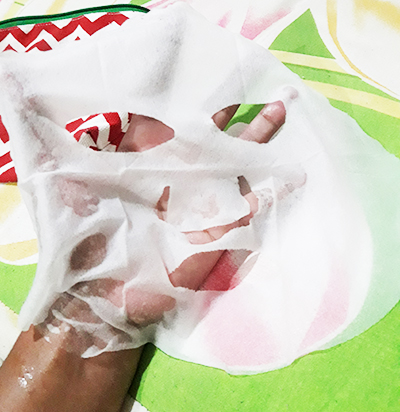 For your important, mask sheet ini 2 kali lebih tipis dari lembar masker pada umumnya, daya rekatnya yang sangat baik.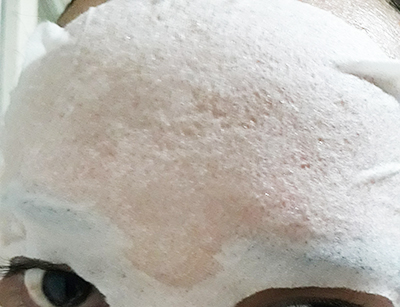 Awal pake masker ini efek yang ditimbulkan sangat adem banget alias soothing. Sheet mask ini tipis banget dengan essence yang lumayan banyak. Pengunaannya cukup 15-20 menit menurut aturan, tapi aku pribadi menggunakannya sampai efek soothingnya hilang. Essence yang tersisa bisa digunakan untuk ditepuk-tepuk agar lebih lembab. Hasilnya sangat memuaskan, efek soothing dan coolingnya lebih terasa dibanding beberapa sheet mask yang pernah aku pakai. Overall, I love this product.
KESIMPULAN
Sheet Masknya tipis daripada sheer mask brand lain
Efek soothing dan hydrating dapat
Ukuran Masker pas dengan wajah
Product price: IDR 10.000 – IDR 15.000
Missha Airy Fit Sheet Mask
Average rating:
1 reviews
Jul 24, 2019
Saya pernahnya nyoba yang pearl. Aromanya enak, nggak terlalu menyengat dan essence-nya pas. Nggak terlalu banyak tapi juga nggak kedikitan. Teksturnya tipis, jadi nempel banget di muka dan nggak geser-geser. Varian pearl langsung bikon muka kelihatan cerah dan kulit jadi plump gitu. Essence-nya juga nggak terlalu lengket di kulit kok.
Packaging rating

Product rating

Price rating